Day 06: Manvar / Jodhpur (120 Kms) (02 Hrs Drive)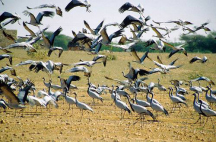 Early morning excursion to Khichan. The tiny village of Khichan has assumed a popular appeal with the bird watching community. The local people offer large amounts of grain to birds every morning and this has attracted large numbers of Demoiselle Cranes to usurp this food supply. It is great spectacle to watch these Cranes swoop down to a especially created rectangular enclosure, for their early breakfast. The feeding session lasts for an hour and a half, one group takes off as another settles. Their flight across the backdrop of the traditional mansions of the village, presents wonderful opportunities for photography, as do the feeding birds on the ground. We are very close by and can be offered vantage positions over the terraces, by the local people who feel proud of their visitors.

Later, we will drive to Jodhpur

Upon arrival in Jodhpur, check in to your hotel Ratan Vilas, exudes an aura distinctly its own - enhanced by its rich and varied collection of paintings, treasure troves and hunting trophies of yesteryear. Everything is well preserved by the royal family, which still uses a part of the building as its home. The magnificent sandstone building, built for Sir Ratan Singhji, the Maharajadhiraj of Jodhpur, tastefully blends the lavish interiors and modern comforts. Present day facilities are harmonized so as not to disturb the antiquity of the royal abode.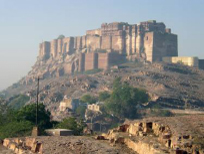 After rest and relaxation, proceed on a guided tour of Jodhpur. Our tour includes the massive fort. In olden days this must have been impregnable since its rocky base is scraped straight down making it nearly impossible to ascend. Once inside, royal palaces abound with fascinating history and priceless jewels, on to the armoury and Jaswant Tara - the Royal Crematorium.

Evening, we would ride horse carriages to the Clock Tower Bazaar. This is one of India's largest and most colourful wholesale markets especially with respect to clothes, fabrics, spices, vegetables etc. It is a fantastic experience to walk through the place observing and photographing this incredible spectacle of vibrant lifestyles and incredible colours.

Overnight at Ratan Vilas – a Heritage Property (Superior Room)
Day 07: Jodhpur / Jaipur (320 Kms) (06 Hrs Drive)
After breakfast, we will drive to Jaipur

Upon arrival, check into the Hotel Jasvilas.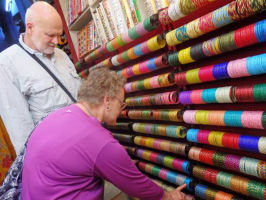 After rest and relaxation, guided walks along the lanes and bye-lanes of the old city. The city is best-explored on foot and only the inquisitive visitor willing to go into the rastaas (streets) and galis (lanes) will feel the spirit of the city. Jaipur's colorful bazaars tantalize the eye with enameled blue pottery, exquisite gem-studded jewelry, engraved brass work traditional block-printed fabrics and brightly patterned dhurrie rugs together with traditional crafts and miniature painting.

Overnight at Jasvilas (Standard Room)
Day 08: Jaipur
After breakfast, we will visit the Hawa Mahal or Palace of the Winds, a five-storied structure of pink sandstone with semi-octagonal and delicately honeycombed windows overlooking the main street of the old city. It was built in 1799 so that veiled royal women could peer down unseen by the world through its 593 stone screens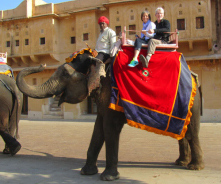 Then, we visit Amber Fort, the former capital of the royal Jaipurs. Few fail to be moved by the dramatic Rajput grandeur of this hilltop fortress-palace 11 km north of Jaipur. Set on the dry wrinkled Aravali Hills, and surrounded by fortified battlements, the palace straddles two sepia-hued tundra hills overlooking Maota Lake, and its sprawling crenellated walls lattice the surrounding hills.

Then, we will ride up to the Amber on Jeep. Our guide will elaborate on the history of this architectural masterpiece with its mirror-studded alcoves, dazzling mosaics and water-cooled swings that delight today's visitors as they did their former royal residents.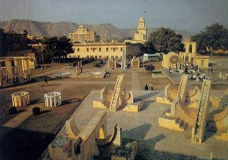 Later, we visit the Panna Meena ka Kund. This beautiful place was constructed during sixteenth century. The place was mainly utilized as a place of social meetings. People from nearby places come here for getting water, swimming or just to hang out with their loved ones. During ancient times, this place was utilized mainly as water protects pool. This beautiful Kund has a unique architecture and styling. This Kund was designed by a Brahmin and constructed by craftsmen and engineers.

We would also stop at Jal Mahal palace for photos. (From Outside Only)

Then, we will proceed on a tour Of the City Palace & Observatory. The City Palace in the heart of the old city is a blend of Rajasthan and Mughal architecture. The palace lies in the heart of the city and occupies the whole central grid. The fortified wall has seven gates and was built for protection from invading armies and animals that lived in jungles, which surrounded the wall that time. Next, we visit the Solar Observatory - an astronomical treasure house, with solar device that give accurate predictions till date.

Overnight at Jasvilas (Standard Room)
Day 09: Jaipur / Fatehpur Sikri / Agra (245 Kms) (05 Hrs Drive)
After breakfast, we will drive to Agra stopping at deserted capital city of Fatehpur Sikri. This abandoned capital of the Mughals is a perfectly preserved city at the height of the empire's splendour. The city divided into religious and secular parts has interesting well-sculpted buildings. From here we continue riding to Agra.

Upon arrival in Agra, check into Hotel Crystal Sarovar Premiere.



Evening we will visit Mahtab Bagh. The Moonlight Garden was an extension of the Taj Mahal Garden - on the other side of the river. In 1652 Aurangzeb wrote to his father telling of a visit to 'the blessed tomb' and commenting that 'the Mahtab Garden was completely inundated and has lost its charm, but soon it will regain its verdancy. The octagonal pool and the pavilion around it are in splendid condition.' The Mahtab Bagh was lost under the mud but re-excavated in the 1990s. Originally, the garden was planted with fragrant flowers and used in the cool of the night as a place from which to view the Taj Mahal reflected in the octagonal pool and in the river.

Overnight at Crystal Sarovar Premiere Agra (Deluxe Room)
Day 10: Agra / Delhi (205 Kms) (04 Hrs Drive) (Taj Mahal is closed on Fridays) Delhi / Departure
Agra is the city of the Taj Mahal, perhaps the most photographed monument in the world. However, there is a degree of enigma about the Taj. Once you hear about a building so much and once you see so many pictures of a building your expectations are real high; and this is the enigma about the Taj Mahal. No matter how many pictures you have seen or no matter how high your expectations are the Taj never lets you down - the unparalleled glory and beauty of the building surpasses beyond all human imaginations. At sunrise we visit one of the greatest sights of one's lifetime - Taj Mahal. A dawn visit to the fabled Taj Mahal to witness the magical effects caused by the reflections of the changing colors of the rising Sun on this brilliant white marble building. From here, we will return to our hotel for breakfast.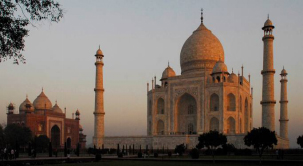 After breakfast, we ride to the massive Agra Fort. The elegant buildings inside reflect an interesting synthesis of Hindu and Central Asian architectural styles. Built by Emperor Akbar, the maze of the courtyards, mosques & private chambers of the fort echo the story of the Mughal Empire

Following the tour, we will drive to Delhi along one of the India's finest freeways

Upon arrival in Delhi, transfer to the International airport to board your flight back home
END OF SERVICES
We do hope the flavor of India will remain on your taste buds for all times to come and hopefully would kindle an indelible fondness for the country and her people; Thank you for being our guest, and as we say in India
"Please Come Back Soon"
Thank you for giving us the opportunity to serve you!!


Tour Cost for 02 People Traveling Together Sharing on Twin Sharing Basis
Cost valid for period from 01st April, 2022 till 30th September, 2022: INR 87,400* Per Person
Cost valid from 01st October 2022 till 31st March, 2023: INR 94,800* Per Person
NOTE: - Hotel Upgrades available upon request
*T & C Apply
*Discounts available for larger numbers.
Above mentioned quotes not valid for peak period (20th December 2022 to 05th January 2023)


Cost Includes : Accommodation on twin share basis; daily American breakfast; air-conditioned private Sedan car for all journeys and tours; Local English speaking guides; Rickshaw Ride in Old Delhi, Boat ride in Udaipur, Tour of Ranakpur with an audio guide, Jeep safari at Rohet and Manvar; Camel ride at Manvar; Horse carriage ride in Jodhpur, Jeep ride in Jaipur and Inner India airfare as per the itinerary (subject to change and 100% cancellation charges), GST Levy.
Cost Does Not Includes : Entrance, Camera & Video fee to monuments, Meals other than as mentioned above, Expenses of Personal nature such as Laundry, Drinks, Telephone calls, Tips etc., Credit Card Transaction Charges.