09th Nov (Mon): Jaipur / Pushkar (160 Kms) (03 Hrs Drive)
After breakfast, we will drive to Pushkar

Upon arrival on Pushkar, check into Bhanwar Singh Palace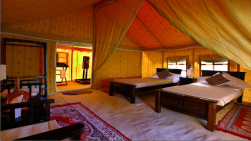 Evening, we will walk through this amazingly fascinating religious town. According to legend, the origin of Pushkar dates back to the time when Lord Brahma was on his way in search of a tranquil land to perform a 'Yagna'. A lotus fell from the hand of the Lord into this valley. A lake sprang up on this spot and was dedicated to him. A Brahma temple located here which is supposed to be the only temple dedicated to this God is a popular place of pilgrimage. It would be fascinating to walk along the maze of narrow lanes and streets.

Overnight at Bhanwar Singh Palace (Royal Room)
10th Nov (Tue): Pushkar
Today we will enjoy Pushkar Fair

The fair is initially devoted to the trade of camels, sheep, horses and cows. Their owners, dressed in colorful attires use all their persuasive skills to sell them at most competitive prices. The festival offers a perfect opportunity to the local people specially the womenfolk to purchase the most exquisite jewelry items. The garment stall selling various garments with attractive tie n die work, patchwork and tattoo shops add to the colors of the festivals.

As the fair approaches a climax, it's time for the merriment. The fair observes various breathtakingly competitive events including camel races, musical chairs and beauty contest. There are jugglers, fire dancers and a variety of swings that make this festival an absolutely awesome event.

Overnight at Bhanwar Singh Palace (Royal Room)
11th Nov (Wed): Pushkar / Udaipur (280 Kms) (05 ½ Hrs Drive)
After breakfast we drive to Udaipur

Welcome to Udaipur, the famed "City of sunrise" Founded in 1567 by Maharana Udai Singh, from the lineage of the legendary Sisodias of Mewar - the decedents of the sun God. Udaipur is a city where the sun truly never set, where tradition and a strict code of heroism were happily united with a love of fine living. A city that has come to be an oasis of romance in the warrior state of Rajasthan

Upon arrival in Udaipur, check into Madri Haveli.

Rest of the day is at leisure for your independent activities. We will explore the bustling bylanes of Udaipur which have artisans practicing their traditional crafts handed down to them by their elders. Khari printers do decorative floral patterns in gold and silver on plain or printed fabric. Block printers print various designs and patterns in different colours with the help of wooden blocks. You'll also find artisans carving furniture, making puppets and traditional wooden toys. Along with engraving and embossing on brass, silver, jewellery, copper and even pottery, Meenakari is a specialty of this region. Udaipur also specializes in stone carving, especially in marble and sandstone, with artisans working hard at chiseling their finest filigree work. Colour as usual plays an important role in the life of Udaipur as in Rajasthan. It is wonderfully evident in ghagharas (long flowing skirts), cholis (blouses), and odhnis (long scarves) of the women as well as the turbans of the men.

Overnight at Hotel Madri Haveli (Deluxe Room)
12th Nov (Thu): Udaipur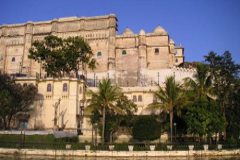 After lesuriely breakfast we proceed on a tour of this "Lake City". Udaipur is a cool oasis in the dry heart of Rajasthan. It is probably the most romantic city in a state where every city has some romantic or exotic tale to tell. The huge city palace towering over the Lake Pichola is the largest palace complex in Rajasthan. Though it is a conglomeration of buildings built by successive rulers, it manages to retain a surprising uniformity of design and affords very fine view of the lake and the city from the upper terraces. The Jagadish temple next to the city palace enshrines a black stone image of Lord Vishnu and his vehicle- a mighty bird called garuda - in a brass image. The temple is a very fine example of Indo-Aryan Art.

Evening we enjoy a boat cruise on the serene and beautiful Lake Pichola. The island palace on the Lake called Jagmandir Palace is quite fascinating. The Palace provided inspirations and ideas to the builder of the Taj Mahal. The banks of the lake provide interesting glimpses of the daily bathing and the laundry that takes place here. Looking across the lake, with the city and its great palace rising up behind the island palace, is a scene of rare beauty.

Overnight at Hotel Madri Haveli (Deluxe Room)
13th Nov (Fri): Udaipur / Delhi (AI 472 – 1510 / 1610 Hrs.)
Morning is at leisure for your independent activities.

Afternoon, transfer to the airport to board your flight to Delhi

Meeting and assistance upon arrival in Delhi & transfer to Hotel Jaypee Siddharth

Overnight at Hotel Jaypee Siddharth (Deluxe Room)
14th Nov (Sat): Delhi / Departure
In time, transfer to the International airport to board your onward flight
END OF SERVICES
We do hope the flavor of India will remain on your taste buds for all times to come and hopefully would kindle an indelible fondness for the country and her people; Thank you for being our guest, and as we say in India
"Please Come Back Soon"
Thank you for giving us the opportunity to serve you!!


Tour Cost Based On 02 People Traveling Together Sharing 01 Twin Room: - INR 93,500* Per Person
NOTE: - Hotel Upgrades available upon request
*T & C Apply
*Discounts available for larger numbers.


Cost Includes : Accommodation on Twin Sharing basis; daily American breakfast and All meals in Pushkar during the Pushkar fair, Rickshaw Ride in Old Delhi, Boat ride in Udaipur (Seat in a Launch), Jeep Ride at Amber in Jaipur, All journeys and Tours as per itinerary in a fine air-conditioned Sedan Car; Local English Speaking Guides, Inner India airfares as per the itinerary (subject to change and 100% cancellation charges), GST Levy.
Cost Does Not Includes : Entrance, Camera & Video fee to monuments, Meals other than as mentioned above, Expenses of Personal nature such as Laundry, Drinks, Telephone calls, Tips etc., Credit Card Transaction Charges.