On The Tiger's Trail
Total Days : 13 Days
Tour Destination : Delhi, Agra, Bandhavgarh, Kanha, Pench, Tadoba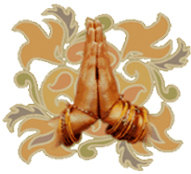 Namaste! - We welcome you with folded hands
Day 01: Arrival / Delhi
Late night arrival, Meeting and assistance upon arrival as our representatives welcome you and escort you to your car.
Whilst the room keys and check-in is organized, our representative would introduce the tour to you and hand over the documents to you.
Welcome to India, or as we say 'atithi devo bhava' (the guest is an incarnation of God). Thank you for giving us the opportunity to serve you!

Overnight at Hotel Jaypee Siddharth (Standard Room)

Day 02: Delhi
After breakfast, we proceed on a guided tour of New Delhi, Visiting such sights as, Humayun's Tomb (1586), the Qutub Minar 72 meters high and one of the most perfect towers in the Persian world. The Iron Pillar which has survived the vagaries of weather for over 1500 years. Continue with a drive through Embassy area, the Government buildings (1921-1930). We will also visit India Gate.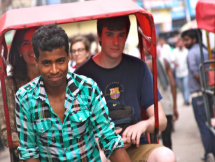 This evening, we will go for a rickshaw tour in Old Delhi - one of the best examples in the world where you can witness the cultural mixtures of "old and new". Uncover the sights, scents, and the flavors of "Purani Dilli" (Old Delhi) while you are sitting comfortably and safely in your cycle rickshaw. Our major highlights would include a visit to the Jama Masjid, Fatehpuri Masjid, Chandni Chowk market (literally meaning the moonlit square), Darba Kalan (a 17th century jewel street), Kinari bazaar (a market, especially for wedding & traditional outfits), Kari Baoli (Asia's largest spice market), as well as the narrow alleys of Ballimaran (well-known for the renowned poet Mirza Galib's house). Moreover, the people and the streets here have many stories to tell you about the yesteryears of Delhi!! Yes, Please, this magical ride will give you a perfect opportunity to discover a different Delhi; all Natural and all earthy from the safety of your rickshaw.

Overnight at Hotel Jaypee Siddharth (Standard Room)
Day 03: Delhi / Agra / Delhi (205 Kms) (04 Hrs Drive – One Way)
After breakfast, we will drive to Agra along one of India's finest freeways.
Upon arrival in Agra, we will visit Taj Mahal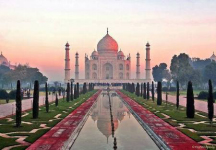 Agra is the city of the Taj Mahal, perhaps the most photographed monument in the world. However, there is a degree of enigma about the Taj. Once you hear about a building so much and once you see so many pictures of a building your expectations are real high; and this is the enigma about the Taj Mahal. No matter how many pictures you have seen or no matter how high your expectations are the Taj never lets you down - the unparalleled glory and beauty of the building surpasses beyond all human imaginations. We will visit the Taj Mahal to witness this spectacular monument built for love. Besides perfect symmetry in every aspect of its construction, the inlay work of semi precious stones into marble in pietra dura style is absolutely remarkable.
Later, we ride to the massive Agra Fort. The elegant buildings inside reflect an interesting synthesis of Hindu and Central Asian architectural styles. Built by Emperor Akbar, the maze of the courtyards, mosques & private chambers of the fort echo the story of the Mughal Empire Following the tour, we will drive to Delhi, along one of the India's finest freeways.

Upon arrival in Delhi, check into Hotel Jaypee Siddharth

Overnight at Hotel Jaypee Siddharth (Standard Room)
Day 04: Delhi / Jabalpur (SG 2641 – 1015 / 1200 Hrs)
Jabalpur / Bandhavgarh (165 Kms) (03 ½ Hrs Drive)
Morning, transfer to the airport to board your flight to Jabalpur.

Meeting and assistance upon arrival and from here we will drive to Bandhavgarh.

Upon arrival in Bandhavgarh & check in to Tree House Hideaway

Overnight at Tree House Hideaway (Tree House)
Day 05 – Day 06: Bandhavgarh (Afternoon safaris are closed on Wednesday)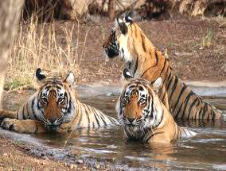 Morning & afternoon jungle excursions in shared jeeps, The pattern of early morning and afternoon excursions will be interspersed with periods of relaxation back at our accommodation during the heat of midday. Although Tigers are the star attraction at Bandhavgarh the supporting cast of mammals and birds is very impressive, the latter including such species as Grey-headed Fishing Eagle, Plum-headed Parakeet, Malabar Pied Hornbill, Greater Racket-tailed Drongo and Asian Paradise Flycatcher among a total of over 250 species recorded in the district. Tour members with an interest in ornithology will value the time between game drives as an opportunity to explore some of the habitats close to our base.
Tigers and the more rarely seen Leopards, have no shortage of prey in the reserve The Spotted Deer or Chital is a favorite item on the Tiger menu and several thousand of these delightful deer inhabit the park.
Other species found here in varying abundance include; Chinkara, Chowsinga, Wild Boar, Sambar, Muntjac and Nilgai. Herds of the Asian Bison, or Gaur, formerly Inhabited the Reserve but impressive beast has not been seen at Bandhavgarh since 1998 although a closely monitored programmed for the reintroduction of the Gaur is planned within couple of years. A hunting pack of wild dogs may also be seen on occasions. Mammal sightings always require a degree of luck, particularly when the species is essentially nocturnal or reclusive but each outing in the reserve will at least provide a chance to meet one of the rarer inhabitants such as Sloth Bear, Indian fox, Jackal, Wolf, Ratel, Striped Hyenas, Jungle Cat or Indian Pangolin. More predictable are the sounders of Wild Boar rooting among the vegetation, Indian Hares, the lively little Palm Squirrels that seem to be constantly in a state of agitation, and several members of the mongoose tribe. Common Langurs and Rhesus Macaques are also plentiful, the former enjoying an elevated view of the forest as they devour their favourite leaves and often the first creature to bark out a warning at the appearance of a Tiger below.
We are never short of wildlife to watch in this gem of a reserve.

Overnight at Tree House Hideaway (Tree House)
Day 07: Bandhavgarh / Kanha (Afternoon safaris are closed on Wednesday)
Morning jungle excursions in jeep
Later, we will drive to we drive to Kanha Tiger Reserve
Upon arrival, transfer across the countryside to your safari headquarters for a two-day exploration of this vast, unspoiled central Indian preserve.
Upon arrival, check into Singinawa Jungle Lodge

Overnight at Singinawa Jungle Lodge (Singinawa Cottage)