Value Added Optional Tours Available (Request for prices and detailed information): -
Private Bollywood dance class tour in Delhi.
Heritage walking tour of Agra's old city.
An Unique & Inspiring Session with the Elephants in Jaipur
Jaipur Heritage Rickshaw Tour Driven By Women
Block Printing, Jaipur
Private Yoga Session in Jaipur with the expert
Discovering Agra's traditional street food.
Biking tour in Jaipur.
For someone from the West, India provides an authentic adventure - stimulating, absorbing, daunting, sometimes moving and shocking. Here is one of the world's great dramas; an ancient, vast and crowded land committed to the most formidably challenging exercise in mass democracy. It is a spectacle in which hope, pride, paradox and uncertainty mingle and struggle. It is conducted on the whole, and to India's credit in the open. The lasting memories of the land are hospitality, kindness, good humor and generosity. Here is a society of over a 1000 million people, growing by a million a month, divided and united by language, caste, religion and regional loyalties. It has often been described as a functioning anarchy; and it is in many ways an amiable one, of marvelous fluidity and tolerance. Indeed, the true Indian motif is not the Tajmahal, the elephant or the patient peasant behind the ox drawn plough. It is the crowd, the ocean of faces in the land of multitudes, endlessly stirring, pushing and moving. It is in this human circulation that one sees India's colour, variety, busyness, and, senses also its power, vitality and grandeur.
Day 01: Arrival / Delhi
Welcome to India, or as we say 'atithi devo bhava' (the guest is an incarnation of God). Thank you for giving us the opportunity to serve you!
Late night arrival. Meeting and assistance upon arrival as our representatives welcome you and escort you to your car.
Whilst the room keys and check-in is organized, our representative would introduce the tour to you and hand over the documents to you.
Overnight at Hotel Jaypee Siddharth (Deluxe Room)
Day 02: Delhi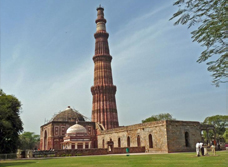 After breakfast, embark on a city tour of New Delhi. Our tour includes a visit to the Qutab Minar - 72 meters high and one of the most perfect towers in the Persian world. The Iron Pillar which has survived the vagaries of weather for over 1500 years.
Then, we will continue our expedition with a drive to the Lutyens Delhi which is considered to be the corridors of power and serenity. Our tour also includes a drive pass through the Rashtrapati Bhawan, Parliament House as well a stop at India Gate.
Next, we will continue our journey with a visit to the Humayun's Tomb (1586), built by the Emperor's widow Hamida Banu Begam, also known as Haji Begam, commenced the construction of his tomb in 1569, fourteen years after his death. Our tour also includes a visit to the Isa Khan's Tomb complex located adjacent to Humayun's Tomb and is the resting place of Isa Khan Niyazi, a noble of influence at the court of Sher Shah Suri.
We will be also visiting the Safdarjung Tomb. Then, we will make our way to the Agrasen Ki Baoli (Beautifully Sculpted Step Well) - a water reservoir or a step well that is known for its heritage value. Indeed, the builders were way ahead of time when creating this architectural marvel that dealt with sorting out the water problem.
Later, we cross the city and into the walled gates of the Old city with visits to the Jamma Mosque (1650) and drive through the fabled area of Chandni Chowk (aptly translates to Moonlight Square) where the throngs of shoppers and vendors meet in the oldest area of Delhi. Visit the Raj Ghat and nearby ghats where the founder of the nation, Mahatma Gandhi and thereafter Indira Gandhi and Rajiv Gandhi were cremated.
The highlight of this tour would be a ride on cycle rickshaws. Now these are 3-wheel cycles with a sofa seat at the back. The Rickshawala (Rickshaw driver) sits on a small cushion in the front and two passengers on the sofa seat behind. This is a remarkable way to explore and picture the hustle and bustle as well as the color of the narrow winding streets bursting with people and pavement shops selling wares of all description - including a laughing set of dentures. The ride would be accompanied by peals of laughter both from the passengers as well as the onlookers.
(Pleases do accept that some shops are closed on Sundays)
Overnight at Hotel Jaypee Siddharth (Deluxe Room)
Day 03: Delhi / Nawalgarh (243 Kms) (05 ½ Hrs Drive)
Following breakfast, we will drive to Nawalgarh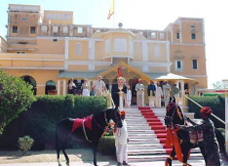 Upon arrival, check into Roop Niwas Kothi, which is a perfect place to experience the true essence of Rajasthan's hospitality, Roop Niwas Kothi represents a charming blend of European and Rajput style of Architecture. It is not only an ideal base to see the havelis and experience traditional lifestyles, but, staying here is a unique experience in itself. The resort, with its serene atmosphere and old world charm re - creates a romantic charm of a regal bygone era. The low rise building is pleasingly symmetrical, with large areas for dining and relaxing. The formal gardens are a delight for walks and bird watching. There is a long lily-filled channel which is a welcome sight in the dry climate.
Afternoon we step out of our regal home and experience the life, living & traditions of a small feudal town frozen in time. We will also tour the sights too. Nawalgarh is one of the biggest and busiest towns of Shekhawati. Founded in the 18th Century it has some of the finest frescoes in the Shekhawati region. A huge fort with a colourful bazaar and numerous havelis with elaborate architecture make it an interesting destination. We will tour some of the prominent havelis like Anandilal Poddar Haveli, Aath Haveli, Hodh Raj Patodia Haveli, etc.
Overnight at Roop Niwas Kothi (Super Deluxe Room)
Day 04: Nawalgarh
Roop Niwas Kothi and Nawalgarh offer a variety of options to visitors. These can be arranged or booked with the resort itself. We suggest that you indulge and involve yourself in activities depending upon your interests. We could suggest (not included) some of the possible activities as below:
Mehndiwali (Indian Tattoo): Different types of traditional designs can be made on hands of women with a paste of mehndi (Henna). This is a traditional decoration and extremely popular with women of all age in India. The true colour of the henna surfaces in a couple of days. It is believed that the darker the color the henna takes; greater would be the love between the partners! Some women also conceal the name initial of their husbands/partners – again, this is an expression of traditional love as women generally do not take the names of their husbands!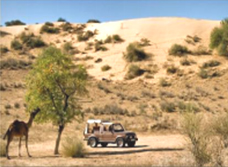 Jeep drives to Mukundgarh, Mandawa, Fatehpur, and Lohargal: This is an exciting drive through primitive and tribal villages, towns & country side where traditions centuries old still permeate life styles. We would have opportunities to witness traditional lifestyles existing and regenerating over centuries. The smoothened mud floors of the village huts remind one of the simple and traditional living here. Once in the villages we would also have a chance to walk and explore the area, interact with the locals, walk into schools witness the atmosphere in temples, village squares etc.
Besides jeep safaris in the vicinity, an excursion to the famous black buck sanctuary of Tal Chhapar with picnic lunch is also an option. The ride would be along rough sand trails on the way up, and, the return would be along a different route on metalled roads. The idea is to have an adventure, step off the tourist trail and witness off the beaten track areas and settlements.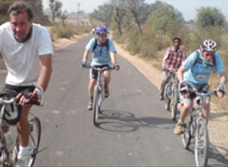 Cycling Tours: A Half day or a Full day Cycle ride through semi desert terrain and past tribal villages would be an interesting option for the adventure lover. The biking commences from the hotel. We sightsee the attractions of Nawalagarh town then ride on to another medieval Indian feudal town of Dundlod to witness the attractions of the place. You may also choose to have lunch or a drink at the famous Dundlod castle. Later in the day you may ride back to your hotel via visits to small villages and farm land en route.
Trekking: For those interested, Trekking in the Aravali hills which are about 32 km away from Nawalgarh in the valley of Lohargal can be set up. It is not a hard trek and could be possible for reasonably fit individuals.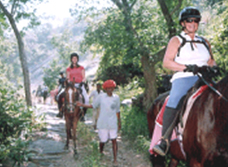 Horse rides & Camel Rides: The Royal family of Roop Niwas Kothi have pioneered unique horse safaris and camel safaris throughout the surrounding and adjoining tribal lands of Nawalgarh. They have well bred and schooled horses in their stables and also own a number of their own camels. If interested in a longer safari, you could have a packed lunch. The fascinating safaris on unusual routes extend to about 15 / 20 Kms.
Hands on Cooking Classes: For people with culinary inclination, special cooking classes can be arranged. Here, we would start from the basic and the experience would commence with your visiting the local bazaar to buy your green grocery, and the chicken (if you wish). We will buy the spices, return back to the hotel. Get your chilled beer ready and keep it handy as you follow a step by step instruction and prepare a traditional Rajasthani cuisine. The great joy of Indian cooking is the release of aromas of different herbs and spices as they are added in steps to enrich the flavour of the curry. The saying "As you sow so you reap" is slightly amended in our context to mean "As you cook, so you eat - "Bon Appétit"
Overnight at Roop Niwas Kothi (Super Deluxe Room)