Value Added Optional Tours Available (Request for prices and detailed information: -
Private Bollywood dance class tour in Delhi.
Heritage walking tour of Agra's old city.
Agra By Night Tour
Discovering Agra's traditional street food
An Unique & Inspiring Session with the Elephants in Jaipur
Jaipur Heritage Rickshaw Tour Driven By Women
Block Printing, Jaipur
Private Yoga Session in Jaipur with the expert
Biking tours in Jaipur.
Rajasthan, 'The Land Of Kings" is India at its exotic and colourful best. The destinations suggested below take us through a time machine a few hundreds of years back in time. We find ourselves in extremely remote tribal areas of Rajasthan where life is as primitive as primitive can be. This enables us to capture images of tribal life at its best - in all its traditional colours and innocent hospitality...The highlight of the tour is stays in royal palaces, forts & castles - imposing buildings replete with luxury, character and Old World charm. Life outside these amazing buildings is a contrast. Life is very primitive and traditional; typical homes with mud plastered or cow dung plastered walls and hay thatched roofs; narrow lanes or trails broad enough only for camel carts or donkey carts; traditional costumes of men & women; primitive agricultural techniques of plough being drawn by men or bulls; traditional occupations of wood carving, block printing, pottery etc. For most people here, their world ends where the village ends. The village itself is self-sufficient; they have their local bazaar and a village temple with a village deity in it. - the deity is supreme and responsible for anything and everything that effect the day to day life of the natives. The only other God that comes a close second to their village deity are members of the royal family who inhabit the palaces, forts and castles that dominate their village. The feudal respect for the rulers has been retained over several generations. Time seems to have come to a standstill here. The experience is like traveling through a living museum. The Tour is a photographer's paradise offering innumerable opportunities to capture virgin lifestyle images unchanged for centuries. Finally, the distances between destinations are very small. This not only cuts out the travel time, but encourages people to have time in hand to explore the country side on the way at their own pace. You would have an opportunity to interact with the locals, visit villages and tribal homes etc. You could do all this and more without worrying about loosing time on journeys. Also, we believe that the sights and experiences that come up on way to a destination are more fascinating and natural compared to the destination itself.

Of Course the crowning Glory of the tour is the Taj Mahal – the most photographed monument in the world…A fitting climax to our back street adventures in Rajasthan
Day 01: Arrival / Delhi
Welcome to India, or as we say 'atithi devo bhava' (the guest is an incarnation of God). Thank you for giving us the opportunity to serve you!
Late night arrival, Meeting and assistance upon arrival as well as traditional welcome with garlands Transfer to your hotel with your relationship executive who would also help you check in and deliver a tour briefing besides handing over a welcome pack containing your travel documents.
Whilst the room keys and check-in is organized, our representative would introduce the tour to you and hand over the documents to you.
Overnight at Hotel Jaypee Siddharth (Deluxe Room)
Day 02: Delhi / Jaisalmer (Runicha Express – 1735 / 1155 Hrs)*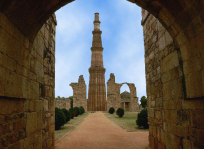 After breakfast, embark on a city tour of New Delhi. Our tour includes a visit to the Qutab Minar - 72 meters high and one of the most perfect towers in the Persian world. The Iron Pillar which has survived the vagaries of weather for over 1500 years.
Then, we will continue our expedition with a drive to the Lutyens Delhi which is considered to be the corridors of power and serenity. Our tour also includes a drive pass through the Rashtrapati Bhawan, Parliament House as well a stop at India Gate.
We will be also visiting the Safdarjung Tomb. Then, we will make our way to the Agrasen Ki Baoli (Beautifully Sculpted Step Well) - a water reservoir or a step well that is known for its heritage value. Indeed, the builders were way ahead of time when creating this architectural marvel that dealt with sorting out the water problem.
Next, we will continue our journey with a visit to the Humayun's Tomb (1586), built by the Emperor's widow Hamida Banu Begam, also known as Haji Begam, and commenced the construction of his tomb in 1569, fourteen years after his death. Our tour also includes a visit to the Isa Khan's Tomb complex located adjacent to Humayun's Tomb and is the resting place of Isa Khan Niyazi, a noble of influence at the court of Sher Shah Suri.
Later we cross the city and into the walled gates of the Old city with visits to the Jamma Mosque (1650) and drive through the fabled area of Chandni Chowk (aptly translates to Moonlight Square) where the throngs of shoppers and vendors meet in the oldest area of Delhi. Visit the Raj Ghat and nearby ghats where the founder of the nation, Mahatma Gandhi and thereafter Indira Gandhi and Rajiv Gandhi were cremated.
The highlight of this tour would be a ride on cycle rickshaws. Now these are 3-wheel cycles with a sofa seat at the back. The Rickshawalla (Rickshaw driver) sits on a small cushion in the front and two passengers on the sofa seat behind. This is a remarkable way to explore and picture the hustle and bustle as well as the colour of the narrow winding streets bursting with people and pavement shops selling wares of all description - including a laughing set of dentures. The ride would be accompanied by peals of laughter both from the passengers as well as the onlookers. (Please do expect some shops closed on Sundays)
Following the tour, transfer to the train station to board your overnight train to Jaisalmer
Overnight aboard First Class Air-Conditioned Sleeper Accommodation*
Day 03: Arrival / Jaisalmer
Meeting and assistance upon arrival and transfer to Hotel Rawalkot
Rest of the day is at leisure. We suggest you walk along the old city to explore traditional and typical Jaisalmer. The havelis (mansions) in a beautiful state of preservation are a fascinating sight.
Overnight at Hotel Rawalkot (Deluxe Room)
Day 04: Jaisalmer / Khuri / Jaisalmer (50 Kms – One Way) (01 hrs Drive)
Morning, we visit the residential portions of the fort where one third of the population of the old city lives. The design of houses remains, as they were a couple of century's back and so is the lifestyle of people occupying them. This is because most of the families continue to work for generations for the rural (though only titular now) hence there is a sense of continuity. The houses are arranged in narrow lanes and have small windows from where the shy child or the girl peeps. This is the city believed to be the home of the most handsome men and women in Rajasthan.
Afternoon, we will drive on an excursion to the fascinating desert village dunes of Khuri, located near sand dunes for another 'Indian experience', and, a memory to be treasured. The friendly locals would invite you into their simple homes, little mud houses with earthen floors, no electricity or running water. The women walk two kilometers to the well & carry the water home on their heads. Life is very primitive here restricted to basic activities centered around the little mud hut. The rough terrain here does not support cultivation, hence the entire village work as causal labourers in road works or community projects. Inspite of their poverty and hard life the people are very friendly and seem to be aware that they are proud owners of very expressive and beautiful faces. In the evening we explore the dessert on camel back. Against the backdrop of the setting sun and the huge expanse of the dessert the camels with their long shadows would be excellent pictures. The stillness of the dessert, the clear sky, local Rajasthani music and the general atmosphere, make the place a very romantic experience.
Evening we will return to our hotel in Jaisalmer
Overnight at Hotel Rawalkot (Deluxe Room)
Day 05: Jaisalmer / Jodhpur (286 Kms) (05 Hrs Drive)
After breakfast, we will drive to Jodhpur
Upon arrival, check into hotel Ratan Vilas. Built in 1920, by Maharaj Ratan Singhji of Raoti who was a keen horse lover and one of the greatest polo players of his time, Ratan Vilas with its imposing but delicately carved exterior and simple yet comfortable interiors, is a genuine heritage edifice in a sylvan setting
After rest & relaxation, we would ride horse carriages to the Clock Tower Bazaar. This is one of India's largest and most colourful wholesale markets especially with respect to clothes, fabrics, spices, vegetables etc. It is a fantastic experience to walk through the place observing and photographing this incredible spectacle of vibrant lifestyles and incredible colours.
Overnight at Ratan Vilas – a Heritage Hotel (Superior Room)
Day 06: Jodhpur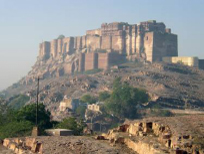 After breakfast, proceed on a guided tour of Jodhpur. Our tour includes the massive fort. In olden days this must have been impregnable since its rocky base is scraped straight down making it nearly impossible to ascend. Once inside, royal palaces abound with fascinating history and priceless jewels, on to the armoury and Jaswant Tara - the Royal Crematorium.
Rest of the day is at leisure for independent activities. Jodhpur is a veritable shopper's paradise with entire streets and localities in the walled city devoted to single commodities. The city is famous for bandhani and lahariya, block printed textiles, silver jewellery, antique furniture, wood and metal handicrafts. Carpets and durries can be found on the Umaid Bhawan Palace road. Jodhpur is home to many talented and skilled craftsmen like textile dyers, metal engravers and die-makers and probably the last of the tailors of the classic Jodhpur breeches.
Overnight at Ratan Vilas – a Heritage Hotel (Superior Room)
Day 07: Jodhpur / Pushkar (184 Kms) (04 Hrs Drive)
After breakfast we drive to Pushkar
Upon arrival in Pushkar, check in to Bhanwar Singh Palace.
Afternoon, we will walk through this amazingly fascinating religious town. According to legend, the origin of Pushkar dates back to the time when Lord Brahma was on his way in search of a tranquil land to perform a 'Yagna'. A lotus fell from the hand of the Lord into this valley. A lake sprang up on this spot and was dedicated to him. A Brahma temple located here which is supposed to be the only temple dedicated to this God, is a popular place of pilgrimage. It would be fascinating to walk along the maze of narrow lanes and streets.
Overnight at Bhanwar Singh Palace (Royal Villa Room)