Day 06 – 07: Kanha Tiger Reserve (Afternoon safaris are closed on Wednesday)
Morning & afternoon, jungle excursions in jeep

Kanha National Park, which is one of the most well known tiger reserves worldwide, is located among the Banjar and Halon valleys in the Mandla / Balaghat districts of the state of Madhya Pradesh. Its creation took place among, and after, a lot of turbulence and storm within concerned circles regarding rampant killing of wildlife in the area at the time. The central Kanha valley was declared a sanctuary way back in 1933 but got its status as a National Park in 1955. It covers a large area of 1,945 square kilometers, out of which 940 square kilometers form the main park. The altitude of the park ranges from 450 meters to 900 meters above sea level. The temperature, depending on the season, ranges from 0 degrees in the winters to 48 degrees in the summers. The park remains open from the 01st of November to the 30th of June. Sometimes, as with most parks of the country, it can be closed earlier if the monsoon season arrives sooner than expected. The park has a heavy monsoon season with an average annual rainfall of 1600mm. The basic infrastructure at the park is well developed and visits can "mostly" be expected to pass without any problems.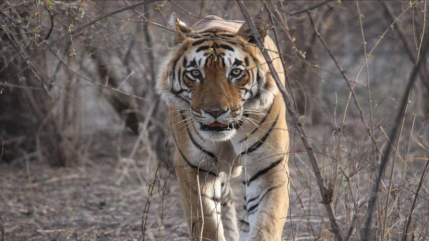 Kanha is also famous for it's animal conservation efforts made in collaboration and cooperation with the local resident communities. One of the famous success stories of the park is the survival of the Barasingha population in the park, which went down to as low as 66 animals in 1970 from the earlier 3000 and which through huge efforts have now revived to a respectable number of around 1000. Kanha boasts of many such success stories of which this is only an example.

Kanha National Park is world famous for it's tigers. Tiger sightings are not as rare as in most other parks of the country. The only other reserves in the country that can claim to have as many sightings as Kanha are Ranthambor and Kanha's own neighbour, Bandhavgarh.

Other than the tiger, some of the more frequently seen animals in the park consist of Leopards, Gaur, Chausinghas, Sloth Bears, Barking Deer, Swamp Deer (Barasingha), Blackuck, Langurs, Wild Boars, Porcupines, Mouse Deer, Hyenas, Jackals and Wild Dogs (Dholes).

The reptile residents of the park consist of Monitor Lizards, Pythons and a large variety of other snakes.

Overnight at Singinawa Jungle Lodge (Singinawa Cottage)
Day 08: Kanha / Nagpur
Nagpur / Delhi (6E 202 – 1950 / 2135 Hrs)
Though the check out time is 12 noon, every effort would be made to retain rooms till as late as possible without additional charges.

Morning jungle excursion in jeep

Later, we will drive to Nagpur airport to board your flight to Delhi

Meeting and assistance upon arrival in Delhi and transfer to Jaypee Siddharth Hotel

Overnight at Jaypee Siddharth Hotel (Deluxe Room)
Day 09: Delhi / Departure
Though the check out time is 12 noon, every effort would be made to retain rooms till as late as possible without additional charges.

Transfer to the International airport to board your onward flight.
END OF SERVICES
We do hope the flavor of India will remain on your taste buds for all times to come and hopefully would kindle an indelible fondness for the country and her people; Thank you for being our guest, and as we say in India
'Please Come back Soon"
Tour Cost Based On 02 People Traveling Together Sharing 01 Room
Cost valid for period till 30th June 2023: - INR 131,400* Per Person
Cost valid from 01st October 2023 till 31st March, 2024: - INR 141,150* Per Person
NOTE: - Hotel Upgrades available upon request
*T & C Apply
*Discounts available for larger numbers.
Above mentioned quotes not valid for peak period (20th December 2023 to 05th January 2024)


Includes: Accommodation on twin share basis; daily American breakfast; air-conditioned private car for all journeys and tours; local guides; Jungle Excursions in Bandhavgarh in & Kanha. Airfare for the Delhi / Jabalpur & Nagpur / Delhi sectors in economy class (Discounted airfare subject to change & availability)
Cost Does Not Includes: Camera & Video fee to monuments, Meals other than as mentioned above, Expenses of Personal nature such as Laundry, Drinks, Telephone calls, Tips etc., Credit Card Transaction Charges.