Vietnam is a country of many surprises, in one hand, you will observe a historic like realm, still steeped in history - and, on the other you will see a high-spirited nation raring to go - certainly, this country is keeping alive the past in its present. So, this exciting journey takes us through the heart and soul of Vietnam —diverse and fascinating, wrapped in ancient traditions and complex history.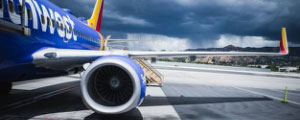 Day 01: Hanoi
Arrival in Hanoi
Meeting assistance upon arrival, our representative will welcome you and escort you to your hotel.
Transfer (35 kms)
Overnight in Hanoi
Day 02: Hanoi (B)
Today, we will begin our tour in Hanoi.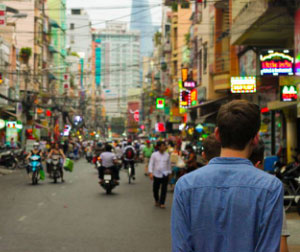 From French architectural legacies to the iconic local markets and, clogged traffic, we are certain that this city will give you a head start - Hanoi is special, to say the least. Besides, Hanoi still retains the enigma and magic of past centuries, with its narrow lanes and traditional shop houses.

We will start our day tour by visiting the vast Ho Chi Minh Memorial Complex with a stop at the Ho Chi Minh Mausoleum which contains the embalmed body of Ho Chi Minh (closed Mondays, Fridays and during September and October). Thereafter, we will visit the Ho Chi Minh's Stilt House, where the great leader of Vietnam lived from 1958 until his final days in 1969. Preserved in the same condition as during his life, it may be viewed through the windows.

Continue the tour, with a visit to the miniature 11th century One Pillar Pagoda which was rebuilt after being destroyed by the French in 1954. Afterwards, visit the Temple of Literature, one of the best-preserved examples of traditional Vietnamese architecture. Founded in 1070 and dedicated to Confucius, this was also the site of Vietnam's first university.

Later, in the afternoon, we will visit Hoan Kiem Lake and Ngoc Son Temple which contains an islet with the tiny Tortoise Pagoda. The tour ends late in the afternoon with a drive pass through the colonial landmarks such as the magnificent Opera House and St Joseph's Cathedral.
Overnight in Hanoi
Day 03: Hanoi - Halong - Cruise (B, L, D)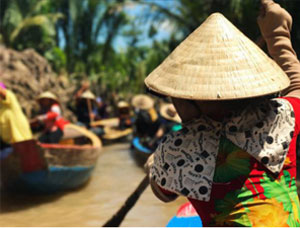 Morning, we will drive to our next destination from Hanoi city to Halong Bay (160 kms).
Transfer to/from Hon Gai pier (12 kms)
Cruise aboard the Indochina Sails Cruise through Halong Bay (No guide)
Check in at Tuan Chau Marina Port. Embark on Indochina Sails for a welcome drink followed by a cruise briefing. Savor a delicious Vietnamese set menu lunch while cruising in Halong Bay, passing beautiful spots like: Incense burner, Dog stone islet, Fighting cock islet or Finger Islet. Explore Cua Van fishing village in the afternoon by bamboo rowing boat or kayaking (with supplement). Return to Indochina Sails for fruit and vegetable carving lesion and relax. Dinner is served on board. Overnight on board.
Overnight in Cruise
Day 04: Cruise - Halong - Hanoi - Train (B)
Cruise aboard the Indochina Sails Cruise through Halong Bay (No guide)
The day starts with Tai Chi on the sundeck accompanied by complimentary tea and coffee. Visit Titov Island, climb up to the peak to enjoy the breathtaking beauty of the bay. Return to Indochina Sails for an on-board breakfast before cruising leisurely back to the harbor. Disembark at Tuan Chau Marina Port.
By vehicle from Halong to Hanoi (city) (160 kms)
By train from Hanoi to Lao CAI
Overnight in Train
Special note: The Victoria Express train departs six times a week except Saturday.
Day 05: Lao Cai - Sa Pa (B)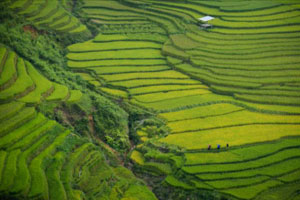 Today, transfer from Lao Cai to Sa Pa (38 kms)
Breakfast at the hotel
Excursion to Cat Cat and Ta Phin with trek
This tour takes you down a meandering road to the Black Hmong village of Cat Cat which is nestled among the beautiful mountain scenery. Wander through the village, visiting the traditional houses and observing the rural way of life. Afterwards, continue to the handicraft village of Ta Phin, inhabited by the Red Dzao, known for their unique red scarves. The total trekking distance is approximately 7 km (2.5 hours).
Overnight in Sa Pa
Day 06: Sa Pa (B)
Excursion to Lao Chai, Ta Van, and Giang Ta Chai with trek (6 hours)
From Sa Pa, travel to the village of Lao Chai, where the trek begins. Visit the Hmong, Dzay and Dzao natives, while enjoying the enormous scenery of terraced rice paddies, and the small bamboo forests that are unique to the northern region.
Later, transfer to Sa Pa.
Overnight in Sa Pa
Day 07: Sa Pa - Hanoi - Hue (B)
Morning, we will drive to our next destination from Sa Pa to Hanoi (300 kms)
Transfer (35 kms)
Flight from Hanoi to Hue
Transfer (15 kms)
Overnight in Hue
Day 08: Hue (B)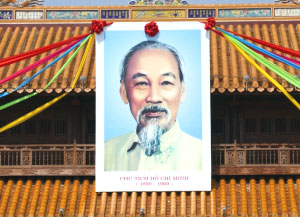 Today, we will begin our tour in Hue.
Established in the 17th century, Hue served as the capital of Vietnam for more than 140 years. It houses ancient temples, imperial buildings and French-style edifices.
Visit the Old Imperial City (3.5 hours)
Located in the heart of Hue is the Imperial Citadel, a vast complex built in the early 19th century and modelled after the Forbidden City of Peking.
Visit the Imperial Tombs of Tu Duc and Khai Dinh (2 hours)
Venture into the countryside around Hue to the Imperial Tomb of Tu Duc. Tu Duc, the longest reigning Vietnamese emperor, designed and built this elegant tomb during his lifetime, using it as a retreat for meditation, reading and theatre performances. Afterwards, visit the Imperial Tomb of Khai Dinh, dramatically located on a hillside.
Overnight in Hue
Day 09: Hue - Danang - Hoi An (B)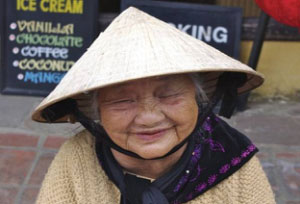 Morning, we will drive to our next destination from Hue to Hoi An (140 kms)
Drive south from Hue along scenic mountain roads with spectacular views over the coastline. Highlights along the way include the dramatic Hai Van Pass, the high dividing line between the climate zones of North and South Vietnam; Lang Co, a lovely stretch of beach curving outwards between a clear blue lagoon and the East Vietnam Sea; and the large coastal city of Danang.
Visit Cham Museum (45 minutes)
The Cham Museum houses probably the best collection of Cham art to be found anywhere in the world.
Overnight in Hoi An
Day 10: Hoi An (B)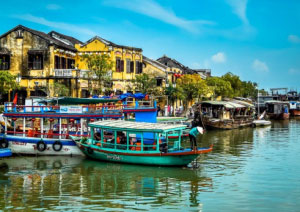 Today, we will begin our tour in Hue (2.5 hours).
Hoi An, a picturesque riverside town, was one of South East Asia's major international ports during the 17th, 18th and 19th centuries. This walking tour includes many of the town's highlights. Visit the Japanese Covered Bridge, constructed in 1593 by the Japanese community to link the town with the Chinese quarters across the stream. Near the bridge is a Sa Huynh Museum, which houses exhibitions from the earliest period of Hoi An's history. Wander into the Tran Family Chapel, a 200-year-old house built for worshipping ancestors. Visit Phuoc Kien Assembly Hall, a Chinese pagoda built around 1690 and enlarged in 1900. It is typical of the Chinese clans in the Hoi An area and is dedicated to Thien Hau Thanh Mau, the Goddess of the Sea and Protector of Sailors and Fishermen.
The afternoon is at leisure.
Overnight in Hoi An
Day 11: Hoi An - Quy Nhon (B)
Drive from Hoi An to Quy Nhon (305 kms)
Journey south on Highway 1 along the coast past Tam Ky and Quang Ngai. This region is one of the most arid in Vietnam, and the nearby plains are dominated by rocky, roundish mountains.
Overnight in Quy Nhon
Day 12: Quy Nhon (B)
The day is at leisure to explore the surrounding bliss.
Overnight in Quy Nhon
Day 13: Quy Nhon - Nha Trang (B)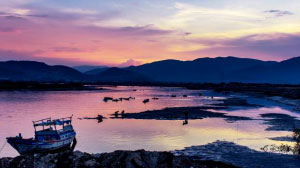 Morning, we will drive to our next destination from Quy Nhon to Nha Trang (230 kms).
The rest of the time is at leisure.
Overnight in Nha Trang
Day 14: Nha Trang (B)
The day is at leisure to explore the surrounding bliss including the pristine beaches.
Overnight in Nha Trang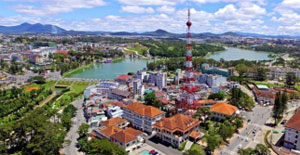 Day 15: Nha Trang - Dalat (B)
Morning, we will drive to our next destination from Nha Trang to Dalat (150 kms).
Sightseeing in Dalat (Half day) (5 hours)
Nestled in the mountains, Dalat is a former colonial hill station with an abundance of colorful parks, lakes, gardens and waterfalls. Its ever temperate climate has earned it the name, the City of Eternal Spring.
Overnight in Dalat
Day 16: Dalat (B)
Morning, along with our guide, we will set for an excursion to the beautiful countryside of Dalat (6 hours).
Leave Dalat for Ta Nung Townlet to visit the greenhouses in a large flower village where you can stop to take pictures, learn the growing process, flower care and wrapping to deliver to other cities. Continue the visit to coffee plantations and have a chance to taste a cup of coffee. A next fascinating place we will visit is Cuong Hoan Traditional Silk Centre in Nam Ban village. Here you can see every part of the silk process from the live silkworms spinning out their precious cocoon, to the vats where they're boiled up and the threads separated, to the loom where the shimmery cloth is woven.
Later, we will proceed to Chuoi Village as we witness the local lifestyles of the natives. Before getting back to Dalat, you will visit Linh An Pagoda as a last stop of the day.
Overnight in Dalat
Day 17: Dalat - Saigon (B)
Morning, we will drive to our next destination from Dalat to Saigon city (310 kms).
Overnight in Saigon
Day 18: Saigon (B)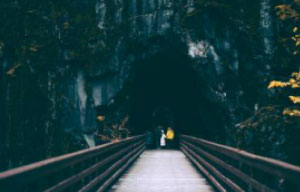 Excursion to Cu Chi Tunnels (5.5 hours)
Your trip to this part of the world would not be complete unless you will visit the Cu Chi Tunnels. Never discovered by American forces, the Cu Chi Tunnels were an important Vietcong base during the American War. Stretching over 200 km, this incredible underground network, dug by hand out of hard laterite, connected command posts, hospitals, shelter and weapons factories. Today, walk through the area and learn about the day to day life of the Vietcong, bear witness to the cleverly disguised entrances and elaborate booby-traps, and even venture inside the tunnels, some of which have been modified to accommodate tourists.

Sightseeing in Saigon [Half day] (4 hours)
A vibrant metropolis, Saigon teems with energy, activity and motion. Everywhere you look, you see the meeting of traditional and modern life. Begin with a tour of the historic centre, strolling along Dong Khoi Street, formerly known as the Rue Catinat, the main shopping thoroughfare and heart of old colonial Saigon. Pass by classic European-style landmarks such as the ornate City Hall (Hotel De Ville), the old Opera House (both may only be viewed from the outside), and pay a quick visit to the neo-Romanesque Notre Dame Cathedral and the Central Post Office.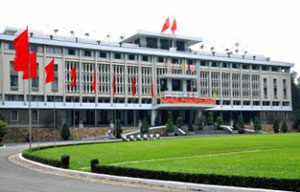 Afterwards dive into modern history with a tour of the Reunification Palace. Formerly the Independence Palace of the South Vietnamese president, this 60s style was famously stormed by tanks on April 30, 1975 signifying the fall of South Vietnam. It has been preserved in its original state, and the original tanks remain on display near the entrance gates. Continue to the harrowing War Remnants Museum, which comprehensively documents the travails of the long Vietnam- American War. Inside are detailed photographic exhibitions; outside is a collection of tanks, planes and weapons. A powerful experience, this museum is guaranteed to provoke strong emotions. Finally, visit the Emperor of Jade Pagoda, one of Saigon's most interesting pagodas.
Overnight in Saigon
Day 19: Saigon (B, L)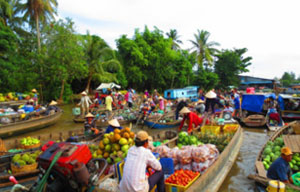 Morning, along with our guide, we will set for a full day excursion to Cai Be with a boat trip to Vinh Long (9 hours).
From Saigon, drive into the heart of the Mekong Delta to Cai Be Town Pier at 10.30am. You will be welcomed on board and fresh towels will be served. Stop at local home factories to observe the traditional procedure of making rice ice paste, coconut candies and other specialties. Enjoy lunch at "Le Longanier", a superb Indochinese villa located by the river, in a lush tropical garden surrounded by fruit plantations. Proceed to Dong Hoa Hiep Island, located between Vinh Long and Cai Be to discover beautiful landscapes along the river. Visit to Ancient Mandarin House dating from 1890 with a personal welcome by the House Owner. Proceed to Vinh Long, passing beautiful landscapes along Dong Phu canal, the Binh Hoa Phuoc and An Binh, the islands that are famous for fruit orchards. Make a stop at An Binh ancient church or Tam Ho's nursery garden on the way back. Crossing Co Chien River, the excursion ends at Vinh Long Pier at around 4.00 Pm.
Later, we will disembark and return back to Saigon.
Overnight in Saigon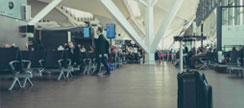 Day 20: Saigon (B)/ Departure
Our representative will escort you to the international airport for your onward flight towards the next destination.
END OF SERVICES
PS: The proposed is only a sample schedule and not written on stone. We would strongly encourage you to share with us your added travel needs so that we could customize the vacation further to align better with your requirements.