The Ultimate Luxury Outback Experience In Ladakh!!
Total Days : 08 Day
Tour Destination : Leh, Thiksey, Diskit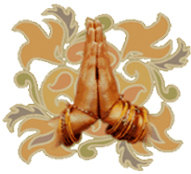 Our friends keep asking us how we liked our trip. I tell them that it was an education in culture, history and religion. I thought India was overwhelming at times, but found it colorful, spiritual and fascinating. It's the kind of trip that you'll be thinking about years later – As Observed by Ms. Joan Landers (A Former Guest of Trinetra Tours)
Namaste! - We welcome you with folded hands
Day 01: Arrival / Leh - Leh / Thiksey
Meeting and assistance upon arrival at Leh airport as our representatives welcome you and escort you to your car.
Welcome to India, or as we say 'atithi devo bhava' (the guest is an incarnation of God). Thank you for giving us the opportunity to serve you!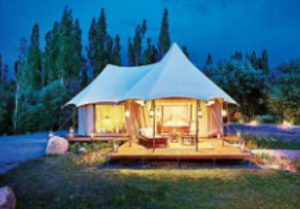 Upon arrival transfer to Chamba Camp, Thiksey soak in the serenity and picturesque surroundings as you relax and acclimatize. Moreover, the beautiful, well-appointed tents provide the perfect home away from home. From plush bed linen on our four-poster beds, to our custom designed and hand -crafted furniture, thick carpets and luxurious bathroom suites, the Chamba Camp has everything that your heart would desire. All overseen by your very own personal butler. Live like royalty and revel in our tents, perched on solid wooden decks . Step out into your own private sit-out area that offers stunning 360 degrees panoramic views of the mystical mountains and dramatic landscapes. The triple layered tents have enhanced natural insulation to keep you warm and comfortable, while the all-weather fire resistant canvas reinforces your serenity. Plus, the chefs in the house, prepare both Indian and continental meals that will transport you to a culinary heaven.
The Day is at leisure for your independent activity.
Overnight at Chamba Camp (Luxury Suite Tent) (L & D)
Day 02: Thiksey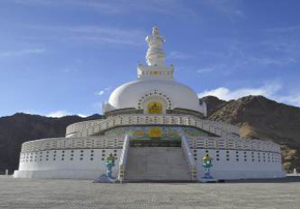 Spend the morning at leisure at the camp, relaxing in the pristine beauty around you.
This afternoon, embark on a sojourn to Matho Monastery and then continue your tour of Leh visiting the Leh Palace and then the Shanti Stupa at dusk.
Shanti Stupa,
Shanti Stupa is situated at a height of 4267 meters overlooking the Leh city, it gives a panoramic view of surrounding snow capped mountains. Situated at a distance of about 5 km drives able road from the Leh city or one can reach here by climbing 500 steps. The location of Shanti Stupa is such that it is visible from all over the Leh city.
Overnight at Chamba Camp (luxury Suite Tent) (B, L & D)
Day 03: Thiksey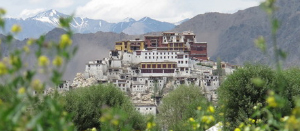 This morning, we will make ourselves ready for the day excursion to the famous monasteries, it is interesting to visit early in the morning to enjoy the praying ceremony at Thiksey monastery located about a kilometre away from our camp. This beautiful monastery boasts spectacular views of the eastern Indus Valley, and is home to a two-storey statue of the Maitreya Buddha seated on a lotus. The monastery offers the privilege of participating in a beautiful prayer ceremony, which takes place at sunrise. The prayer room at Thiksey Monastery features many handwritten and painted books, as well as a temple dedicated to the goddess Tara with her 21 images placed in glass-fronted wooden shelves. You will also see small shrines devoted to guardian divinities, including Cham-Sing, the protector deity of Thiksey.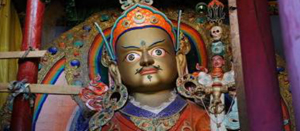 In the afternoon, drive to the Hemis monastery, one of the oldest in the region. Situated about 20 kilometers (1hr) from Thiksey. Built in a secluded valley, this monastery belongs to the Drukpa School or the Dragon Order of Mahayana Buddhism. It was established under the patronage of King Senge Namygal in the 13th century, and features beautiful statues and murals. At the Hemis Monastery, you'll witness young lamas being taught various subjects, including literature, history, philosophy, yoga and tantra.
Overnight at Chamba Camp (Luxury Suite Tent) (B, L & D)
Day 04: Thiksey / Diskit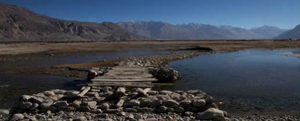 After breakfast, we drive to Nubra Valley where we will re-discover a lost world. The Nubra Valley, which is little visited, as it is inaccessible for all but a couple of months in the year, its high passes closed by the winter snows. In comparison to the Indus valley which is cooler the Nubra is a comparatively warm where walnut, apricot, apple and mulberry trees grow and yak, sheep and goats graze in small forests and along the river Shyok. The journey brings us an excellent view of the great Karakoram Range.
Later, we cross over Khardung La, the world highest motorable road. You can enjoy this staggering location at an elevation of 5,359m.This is an exquisite place and the amount of satisfaction as well as bliss you will experience is immeasurable. A journey through this motorable road is beyond most of our wildest dreams - a frolic yet a bold place.
Upon your arrival at Chamba Camp, Diskit the rest of the day is at leisure to relax and unwind in the pristine surroundings of our camp.
Overnight at Chamba Camp (Luxury Suite Tent) (B, L & D)
Day 05: Diskit

This morning, embark on a Sojourn to the Hidden lake and then continue to the hamlet of Sumur to understand the relation of the local community with the land. As someone has rightly said that "Traveling is not sightseeing", and, we have always believed in that. Enjoy a delectable lunch in the local farmlands.
You may also choose an optional excursion like rafting down the Shyok River: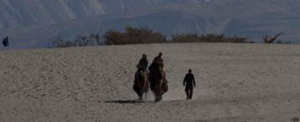 The Indus River originates from sacred Mount Kailash and Lake Manasarovar in Tibet. It flows towards India and enters her borders through the region of Skardu in Baltistan. A gentle whitewater rafting adventure on the Indus lets you float past some of the most scenic sights along the river. This includes breathtaking views of the canyons in the Ladakh and Zanskar Ranges, and the various monasteries and gompas along the river's banks. The splash of the ice-cold water against your face as you embrace the gentle Grade I and II rapids is an experience like no other. A sumptuous picnic lunch on the picturesque setting on the banks of the Indus is the best way to wrap up this fantastic rafting tour.
We reach the Hunder Village through a gorgeous stretch of sand dunes. The main attractions in this area are the Bactarian Double Humped Camels. This is the ancient Silk route and these animals were abandoned by the traders. Successive generations have procreated over centuries. This evening we enjoy camel ride over the Sand Dunes. This is a high mountain desert country with fertile dots of land in between. Sand dunes eclipse the mountains; rock and snow capped mountains rising majestically against a pastel landscape. Truly a soul stirring experience where you experience communion with nature.
Overnight at Chamba Camp (Luxury Suite Tent) (B, L & D)
Day 06: Diskit
In the morning, soak in the solitude of this magnificent camp oasis.
The day is at leisure for your independent activity.
You can choose an optional excursion like a day tour to Turtuk: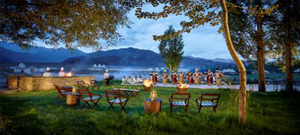 Turtuk draws in travelers from all over the world, for its the last village before the Pakistan border. The last remaining stretch of land where the Balti culture can be witnessed. Besides, you have a village full of fairytale landscapes, intriguing history and smiling people! A unique opportunity for a private tour of the village, as well as visit the king's palace with the King of Turtuk, Yabgo Mohammad Khan Kacho, followed by a picnic set up in the fields.
Overnight at Chamba Camp (Luxury Suite Tent) (B, L & D)
Day 07: Diskit / Thiksey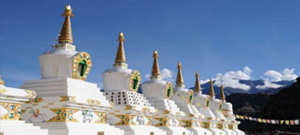 After breakfast, we visit the mystical Diskit monastery and participate in a special prayer service. Explore the quaint and private areas of the monastery. The Diskit Monastery belongs to the Gelugpa (Yellow Hat) sect of Tibetan Buddhism. It is a sub-Gompa of the Thiksey monastery and has a statue of the Chorinpoche "the crowned Buddha" in the prayer hall, a huge drum and several images of fierce guardian deities. An elevated cupola of the monastery depicts a fresco of the Tashilhunpo Monastery of Tibet.
Later, proceed for your onward journey to Chamba camp, Thiksey.
Overnight at Chamba Camp (Luxury Suite Tent) (B, L & D)
Day 08: Thiksey / Departure
After a sumptuous breakfast, bid farewell to your quintessential Ladakh tour.
Later we transfer you to the airport to board your onward flight
No Hotel Quoted For This Day
END OF SERVICES
We do hope the flavour of India will remain on your taste buds for all times to come and hopefully would kindle an indelible fondness for the country and her people; Thank you for being our guest, and as we say in India 'Please Come back Soon"
Thank you for giving us the opportunity to serve you!!
Tour Cost for 02 People Traveling Together on Twin Sharing Basis: - INR 2,28,690* Per Person
NOTE: -
*Above quotes are valid from 01st May 2019 to 15th September 2019
*Quotes Based On the Accommodation Listed In the Above Itinerary – (Subject To Availability)
Cost Includes :
Accommodation/Luxury Suite Tent on Twin Sharing Basis
Meals as per the Itinerary only (B – Breakfast, L- Lunch & D - Dinner)
All monument and entrance fee included as per the itinerary
All journeys as per itinerary in a fine Non AC MUV Toyota Innova (www.toyotabharat.com)
Local English speaking Guide.
GST Levy
Cost Does Not Include :
Meals other than mentioned above
Camera & Video Fee to monuments
Expenses of Personal nature such as Laundry, Drinks, Telephone calls etc.