The Taj & Tigers of India!!
Total Days : 08 Day
Tour Destination : Delhi, Agra, Fatehpur Sikri, Ranthambore, Jaipur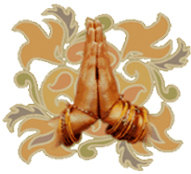 Our friends keep asking us how we liked our trip. I tell them that it was an education in culture, history and religion. I thought India was overwhelming at times, but found it colorful, spiritual and fascinating. It's the kind of trip that you'll be thinking about years later – As Observed by Ms. Joan Landers (A Former Guest Of Trinetra Tours)
Namaste! - We welcome you with folded hands
Day 01: Arrival / Delhi
Welcome to India, or as we say 'atithi devo bhava' (the guest is an incarnation of God). Thank you for giving us the opportunity to serve you!
Late night arrival, meeting and assistance upon arrival as our representatives welcome you and escort you to your car
Whilst the room keys and check-in is organized, our representative would introduce the tour to you and hand over the documents to you.
Overnight at The Oberoi - 5* Oberoi Group Hotel (Premiere Plus Room) (No Meals)
Day 02: Delhi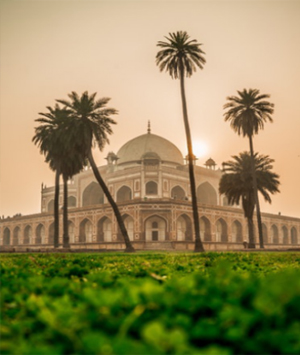 After breakfast, we proceed on a guided tour of New Delhi, Visiting such sights as, Humayun's Tomb (1586), the Qutub Minar 72 meters high and one of the most perfect towers in the Persian world. The Iron Pillar which has survived the vagaries of weather for over 1500 years. Continue with a drive through Embassy area, the Government buildings (1921-1930) and Connaught Place, the heart and main shopping district of the capital. We will also visit India Gate.
We proceed on the tour of old Delhi. We cross the city and into the walled gates of the Old city with visits to the Jamma Mosque (1650) and drive through the fabled area of Chandni Chowk (aptly translates to Moonlight Square) where the throngs of shoppers and vendors meet in the oldest area of Delhi. Then, we will visit the Raj Ghat and nearby ghats where the founder of the nation, Mahatma Gandhi and thereafter Indira Gandhi and Rajiv Gandhi were cremated.
The highlight of this tour would be a ride on cycle rickshaws. Now these are 3-wheel cycles with a sofa seat at the back. The Rickshawalla (Rickshaw driver) sits on a small cushion in the front and two passengers on the sofa seat behind. This is a remarkable way to explore and picture the hustle and bustle as well as the colour of the narrow winding streets bursting with people and pavement shops selling wares of all description - including a laughing set of dentures. The ride would be accompanied by peals of laughter both from the passengers as well as the onlookers.
Overnight at The Oberoi - 5* Oberoi Group Hotel (Premiere Plus Room) (B)
Day 03: Delhi / Agra (205 Kms) (04 Hrs Drive)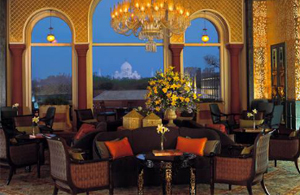 After breakfast, we will drive to Agra along one of the India's finest freeways.
Upon arrival in Agra, check in to Amarvilas hotel, which is one of the best boutique hotels in the world. The hotel of whimsical charm has several attractions. However, being in the city of the Taj Mahal, the most relevant charm of the hotels is the unhindered view of the Taj Mahal from your bedroom. It is the most beautiful and an amazingly uplifting sight. Only 600 meters from the Taj Mahal stands this luxury resort. Discerning travelers can now appreciate the fabulous Taj Mahal while enjoying world-class luxury. The elaborate Mughal gardens, terraced lawns, fountains, reflection pools and pavilions complement the classical architecture of the hotel.
After rest and relaxation, we ride to the massive Agra Fort. The elegant buildings inside reflect an interesting synthesis of Hindu and Central Asian architectural styles, built by Emperor Akbar, the maze of the courtyards, mosques & private chambers of the fort echo the story of the Mughal Empire
Following the tour, we will visit Mehtab Bagh. The Moonlight Garden was an extension of the Taj Mahal Garden - on the other side of the river. In 1652 Aurangzeb wrote to his father telling of a visit to 'the blessed tomb and commenting that the Mehtab Garden was completely inundated and has lost its charm, but soon it will regain its verdancy. The octagonal pool and the pavilion around it are in splendid condition. The Mehtab Bagh was lost under the mud but re-excavated in the 1990s. Originally, the garden was planted with fragrant flowers and used in the cool of the night as a place from which to view the Taj Mahal reflected in the octagonal pool and in the river.
SUGGESTED OPTIONAL ACTIVITY
You have an option to experience Cooking Demonstration in Agra: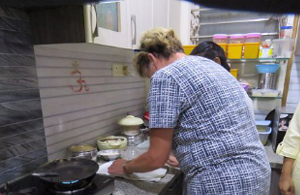 As a part of our Agra tour, we take you in pursuit of a truly natural and cultural experience in an Indian home. A land which is typically known for its spices - your hosts will help you to discover the true flavors and preparations of Indian food in a comfortable and informal manner. The laughter and the entertaining conversations will only be the add-on of this session, along with the mouth-watering food and memories to take away. We will, of course, advise you to take your cooking class seriously, as, what you put in the pan, will eventually appear on your plate!! However, we must assure you that your cooking class is not all about slaving over a hot stove. Your host would make your visit a special event, by engaging with you at all times, helping you learn the relevance of various spices, and, knowing little, but, less known secrets of the Indian kitchen.
Cost for Cooking Demonstration And Meal With An Indian family: INR 1,800 Per Person
Overnight at The Amarvilas – a 5* Oberoi Group Hotel (Premier Room) (B)
Day 04: Agra / Fatehpur Sikri / Ranthambhore (270 Kms) (05 ½ Hrs. Drive) (Taj Mahal is Closed on Fridays)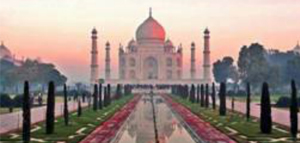 Agra is the city of the Taj Mahal, perhaps the most photographed monument in the world. However, there is a degree of enigma about the Taj. Once you hear about a building so much and once you see so many pictures of a building your expectations are real high; and this is the enigma about the Taj Mahal. No matter how many pictures you have seen or no matter how high your expectations are the Taj never lets you down - the unparalleled glory and beauty of the building surpasses beyond all human imaginations. At sunrise we visit one of the greatest sights of one's lifetime - Taj Mahal. A dawn visit to the fabled Taj Mahal to witness the magical effects caused by the reflections of the changing colours of the rising Sun on this brilliant white marble building. Later we return back to our hotel for breakfast.
After breakfast we drive to Ranthambhore stopping at deserted capital city of Fatehpur Sikri. This abandoned capital of the Mughals is a perfectly preserved city at the height of the empire's splendor. The city divided into religious and secular parts has interesting well-sculpted buildings. From here we continue riding to Ranthambhore.
Upon arrival in Ranthambhore, check into the delightful Vanyavilas hotel. For the duration of your visit, you will be pampered and cared for beyond imagination. Experience and discover the magic of romance and rejuvenate body and mind with our spa treatments. Long after you have returned to real life, the Unforgettable Experience of staying at The Oberoi Vanyavilâs will remain a vivid memory.
Overnight at The Vanyavilas - a 5* Oberoi Group Hotel (Luxury Tent) (B)
Day 05: Ranthambhore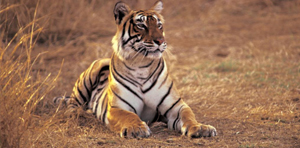 Morning and Afternoon Jungle excursions in shared jeep. Ranthambhore is known to have India's Friendliest tigers Assured of protection; these nocturnal creatures are seen often in the day. Sprawled on the Aravalli and Vindhya ranges of Rajasthan, Ranthambhore National Park encompasses an area of 410 Sq. km. in which lives a healthy population of about 40 tigers. A large number of deer inhabit the area and leopards are occasionally sighted. The Pandam Taloa lake, located adjacent to the Jogi Mahal hunting lodge, is the park's favorite water source. Smaller pools at Raj Bagh and Milak also attract a variety of wild life The best way to explore Ranthambore is in canter as the park is well connected by arterial roads and tracks. Some of the popular sighting areas are Nal Ghati, Lahpur, Bakuala, Anantpur and the Kachida valley. Mammals: Tiger, Panther, Hyena, Jackal, Jungle Cat, Caracal, Sloth Bear, Sambar, Chital, Nilgai, Wild Boar, Chinkara, Indian hare mongoose. Birds: Bonelli's eagle, crested serpent eagle, great Indian horned owl, grey partridge sandgrouse, quail, spurfowl, common peafowl, tree pie, paradise flycatcher, pheasant tailed jacana, painted stork, black stork, spoonbill, green pigeon, ducks.
Overnight at The Vanyavilas - a 5* Oberoi Group Hotel (Luxury Tent) (B)
Day 06: Ranthambhore / Jaipur (160 Kms) (04 Hrs Drive)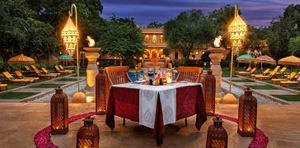 Morning jungle excursion in shared jeep
After a leisurely breakfast, we will drive to Jaipur.
Upon arrival in Jaipur, check into the Rajvilas Hotel, one of the country's premier hotel. Set in 30 acres of orchards, gardens, decorated pools and fountains. The hotel is build with exacting detail, recreating a traditional Rajasthani fort setting. A key feature of the landscape is a large lotus filled water body in which floats a 250-year-old temple on a small island. A haveli or traditional Rajasthani mansion has been restored to its former beauty and contains the hotel's world class spa. The spa is professionally run with the assistance of a specialised spa consultant from the United Kingdom. It incorporates traditional Indian Ayurvedic methods of relaxation, massage and herbal treatment into its programmes.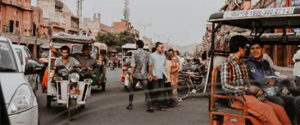 Late afternoon, we proceed on guided walks along the lanes and bye-l anes of the old city. The city is best-explored on foot and only the inquisitive visitor willing to go into the rastaas (streets) and galis (lanes) will feel the spirit of the city. Jaipur's colorful bazaars tantalize the eye with enameled blue pottery, exquisite gem-studded jewelry, engraved brass work traditional block-printed fabrics and brightly patterned dhurrie rugs together with traditional crafts and miniature painting.

SUGGESTED OPTIONAL ACTIVITY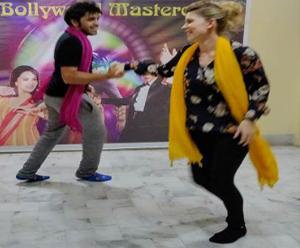 You have an option to experience a Bollywood Dance Workshop:
This morning, participate in a very special contemporary Bollywood dance class. Bollywood dance is the dance-form used in Indian films.  This 1.5-hour activity is for the inquisitive visitors who are looking to gain an insight into the Indian dance forms or who generally want to indulge in learning some unique Indian moves. A perfect mixture of numerous styles.  These include Bollywood, Bhangra, Belly Dance and Garbha with Dandiya (an Indian folk dance). All in all, this is a unique activity that would be replete with laughter, fun, shedding inhibitions, and wholeheartedly embracing a dance form of an alien culture!! We would also have traditional Indian accessories including ColorfulDupattas, Bindis, and Bangles.
Cost for Bollywood Dance workshop in Jaipur: INR 2,500 Per Person
Overnight at The Rajvilas – a 5* Oberoi Group Hotel (Premier Room) (B)
Day 07: Jaipur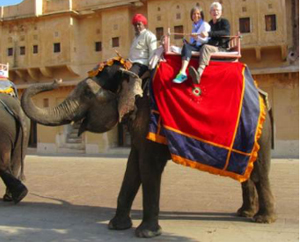 Morning we will visit Amber enroute the Hawa Mahal or Palace of the Winds, a five-storied structure of pink sandstone with semi-Octagonal and delicately honeycombed windows overlooking the main street of the old city. It was built in 1799 so that veiled royal women could peer down unseen by the world through its 593 stone screens
Later, we visit Amber Fort, the former capital of the royal Jaipurs. Few fail to be moved by the dramatic Rajput grandeur of this hilltop fortress-palace 11 km north of Jaipur. Set on the dry wrinkled Aravali Hills, and surrounded by fortified battlements, the palace straddles two sepia-hued tundra hills overlooking Maota Lake, and its sprawling crenellated walls lattice the surrounding hills.
We will ride up to this hilltop palace on a caparisoned, painted elephant, passing through the ancient main gate where Maharajas of Jaipur have entered for four hundred years. Our guide will elaborate on the history of this architectural masterpiece with its mirror-studded alcoves, dazzling mosaics and water-cooled swings that delight today's visitors as they did their former royal residents
Then, We also visit the Panna Meena ka Kund . This beautiful place was constructed during sixteenth century. The place was mainly utilized as a place of social meetings. People from nearby places come here for getting water, swimming or just to hang out with their loved ones. During ancient times, this place was utilized mainly as water protects pool. This beautiful Kund has a unique architecture and styling. This Kund was designed by a Brahmin and constructed by craftsmen and engineers.
Later, we proceed on a tour Of the City Palace & Observatory. The City Palace in the heart of the old city is a blend of Rajasthani and Mughal architecture. The fortified wall has seven gates and was built for protection from invading armies and animals that lived in jungles, which surrounded the wall that time. Next, we visit the Solar Observatory - an astronomical treasure house, with solar device that give accurate predictions till date.
SUGGESTED OPTIONAL ACTIVITY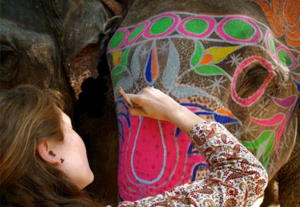 You have an option to experience Up Close with Elephants (Eleday):
In the mid-morning, afternoon we will visit a Elephant farm to have an exclusive time out with the adorable jumbo. It is here we get a chance to get up close and personal with the gentle giant. Upon arrival, we are greeted with welcome beverages. After the drinks, we start the day with elephants. We learn how to get comfortable around the enormous but amiable animal and establish with them a relationship based on trust. Also, we are taught some basic aspects of elephant communication which is very helpful during our stay here. You might be surprised to know that there is a certain language to communicate with the elephants.  
Cost for a Unique & Inspiring Session with the Elephants: INR 3,500 Per Person
Overnight at The Rajvilas – a 5* Oberoi Group Hotel (Premier Room) (B)
Day 08: Jaipur / Departure
(Though the check out time is 12 noon, every effort would be made to retain rooms till as late as possible without additional charges - subject to availability)
In time, transfer you to the international airport to board your onward flight
No Hotel Quoted For This Day
END OF SERVICES
We do hope the flavor of India will remain on your taste buds for all times to come and hopefully would kindle an indelible fondness for the country and her people; Thank you for being our guest, and as we say in India 'Please Come back Soon"
Thank you for giving us the opportunity to serve you!!
| | |
| --- | --- |
| Tour Cost for 02 People Traveling Together on Twin Sharing Basis | 01st October 2019 to 31st March 2020 :- |
| Regular Tour Cost:- | INR 234,360* |
| Special Trinetra Discount :- | INR 28,000 Per Person |
| NET TRINETRA COST :- | INR 206,360* Per Person |
*Quotes based on special Oberoi Group Exotic Vacation Package - subject to availability of all quoted hotels
(Not applicable for the period of 20th Dec.'19 to 05th Jan.'2020).
Cost Includes :
Accommodation on Twin Sharing Basis
Entrances Fee to monuments
Rickshaw Ride in Old Delhi
Meals as per the itinerary (B – Breakfast)
Jungle excursions in Shared Jeep at Ranthambhore
Elephant ride at Amber Fort in Jaipur
All journeys as per itinerary in a fine air-conditioned MUV(Toyota Innova - www.toyotabharat.com)
Local English Speaking guides
All applicable taxes
Special Inclusions at the Oberoi Hotels (Delhi, Jaipur and Agra) :
Daily yoga session.
25% savings on spa treatments.
Complimentary Internet access for up to four devices.
24 hour butler service.
Cost Does Not Include :
Meals other than mentioned above
Camera & Video Fee to monuments
Expenses of Personal nature such as Laundry, Drinks, Telephone calls etc.
Guide at Abhaneri
3% Credit Card transaction Fee