The Magic of Kashmir
Total Days : 07 Days
Tour Destination : Srinagar, Pahalgam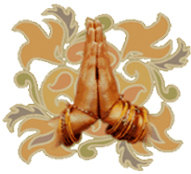 Namaste! - We welcome you with folded hands
Day 01: Arrival / Delhi
Late night arrival, Meeting and assistance upon arrival as our representatives welcome you and escort you to your car.

Whilst the room keys and check-in is organized, our representative would introduce the tour to you and hand over the documents to you.

Welcome to India, or as we say 'atithi devo bhava' (the guest is an incarnation of God). Thank you for giving us the opportunity to serve you!

Overnight at Novotel Aerocity (Standard Room)
Day 02: Delhi / Srinagar (UK 611 – 1025 / 1200 Hrs)
After breakfast, transfer to airport to board your flight to Srinagar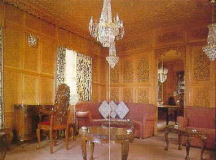 Srinagar is located in the heart of the Kashmir valley at an altitude of 1,730 m above sea level, spread on both sides of the river Jhelum. The Dal and Nagin lakes enhance its picturesque setting, while the changing play of the seasons and the salubrious climate ensures that the city is equally attractive to visitors around the year. ts waterways with their own quaint lifestyle, the unique Houseboat, the blossoming gardens, water sports activities, shopping for lovingly handcrafted souvenirs and the nearby resorts make it a cherished spot among those looking for a memorable holiday.

Meeting and assistance on arrival at Srinagar airport and transfer to the Houseboat on Dal Lake

Rest of the day is at leisure for your independent activities

Overnight But Claremont Houseboat
Day 03: Srinagar
After breakfast, we proceed for the sightseeing tour of the city.

The larger and more elaborate pleasure garden of the Mughals is the Shalimar Bagh, four kms away. Laid out by Emperor Jahangir for Nur Jahan, this garden is also divided into four terraces and has a water channel running down its centre. On the topmost terrace is the pavilion reserved for the royal visitors. Supported by stunning g black marble pillars, the pavilion had tiny niches that were used to keep fragrant flowers in the day and light up the pavilion with lamps at night.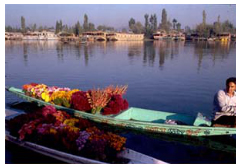 We will also visit the important mosques of Srinagar is the large Jamia Masjid built in 1674. The mosque has thick wooden pillars, each made from an entire deodar tree. One of the oldest mosques in Kashmir, the foundation of the building was said to have been laid as far back as 1398 by Sultan Sikandar. To the southeast is the Rozahbal Mosque, for some esoteric and strange reason known as the 'tomb of Jesus'. Across the River Jhelum lies the Pattar Masjid, built in 1623 for the Empress Nur Jahan. The mosque was later renamed as the Shahi Masjid.

Evening enjoy the Shikara ride on Dal Lake to enjoy the beauty that God has graced this city which is often compared to Venice. You will gat a view of some very interesting places around the lake.

Overnight But Claremont Houseboat
Day 04: Srinagar / Pahalagam
After breakfast, we drive to Pahalgham.

At an altitude of 2,130m and about 95-km from Srinagar, Pahalgam is probably the most popular hill resort in the Kashmir valley. Since it is rather lower than Gulmarg the nighttime temperatures do not drop so low and it has the further advantage of the beautiful Lidder River running right through the town.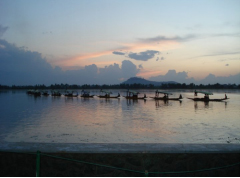 Pahalgam is situated at the junction of the Aru and Sheshnag Rivers and surrounded by soaring, fir-covered mountains with bare, snow-capped peaks rising behind them. The Aru flows down from the Kolahoi glacier beyond Lidderwat while the Sheshnag from glaciers along the great Himalayan. At the confluence of the streams flowing from the river Lidder and Sheshnag Lake, Pahalgam was once a humble shepherd's village with breathtaking views. Now it Kashmir's premier resort, cool even during the height of summer.

Upon arrival check into the hotel Mount View

Rest of the day is at leisure for your independent activities

Overnight at Hotel Mount View
Day 05: Pahalgham
After breakfast, pony ride to the meadows of Baisarn. This is a very unique sight. We climb several trails to suddenly find this lush meadow. There are towering pine trees and snow capped mountains. The view is breathtakingly spiritual

This morning we visit Aru & Chandanwari.

Aru is a grassland surrounded by a gorge on one side. Aru is a beautiful shaded valley of the Lidder river. Encircling and protecting Aru, are the conifer Spread Mountains with occasional flash of high, snow-covered peaks rising against the blue sky. The one of the most beautiful hill resort of Kashmir is still, serene and idyllic.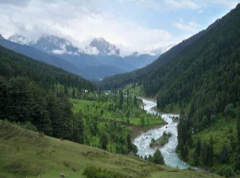 There are small hamlets of wood-and-stone houses, some of them in the typical Gujjar-shepherd style with flat roofs, squat and backed against the hillside.

Following Aru, we will ride to Chandanwari. This scenic destination marks the beginning of the very famous Amarnath trek.

"Betaab Valley" is the place where they shot the famous scenes from movie Betaab. Hajan, on the way to Chandanwari from Pahalgam is an idyllic spot for a picnic. Filmgoers will recognize it instantly as it has been the location of several movie scenes.

Overnight at Hotel Mount View
Day 06: Pahalgam / Srinagar
Srinagar / Delhi (UK 612 – 1520 / 1655 Hrs)
After a leisurely breakfast, we will drive to Srinagar

Upon arrival in Srinagar, transfer to the airport to board your flight to Delhi

Meeting & assistance upon arrival in Delhi & transfer to Novotel Aerocity

Overnight at Novotel Aerocity (Standard Room)
Day 07: Delhi / Departure
Transfer to the International airport to board your onward flight
END OF SERVICES
We do hope the flavour of India will remain on your taste buds for all times to come and hopefully would kindle an indelible fondness for the country and her people; Thank you for being our guest, and as we say in India "Please Come Back Soon"

Thank you for giving us the opportunity to serve you!!
Tour Cost Based On 02 People Traveling Together Sharing 01 Twin Room
Valid for period from 01st April, 2023 till 31st March, 2024: - INR 72,200* Per Person
NOTE: - Hotel Upgrades available upon request
*T & C Apply
*Discounts available for larger numbers.
Above mentioned quotes not valid for peak period (20th December 2023 to 05th January 2024)


Cost Includes: Accommodation on twin share basis; Daily American breakfast, Lunch and Dinner in Kashmir; All transfer and sightseeing by Ac Innova ; Shikara ride on Dal lake, Visit to Aru Valley Beetab Valley & Chandanwari, Mughal garden entry fee is included, Horse ride to Baisaran, Local English Speaking Guide, Daily 1 litr mineral water bottle for each pax., Local sightseeing of Mughal Gardens & temples, Inner India airfare as per the itinerary (subject to change and 100% cancellation charges), GST Levy.
Cost Does Not Includes: Entrance, Camera & Video fee to monuments, Meals other than as mentioned above, Expenses of Personal nature such as Laundry, Drinks, Telephone calls, Tips etc., Credit Card Transaction Charges.