Discovering the Magic of Eastern India!!
Total Days : 10 Day
Tour Destination : Kolkata, Chinsurah, Chandnanagore, Bagdogra, Darjeeling, Bawali Rajbari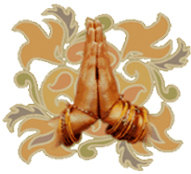 Our friends keep asking us how we liked our trip. I tell them that it was an education in culture, history and religion. I thought India was overwhelming at times, but found it colorful, spiritual and fascinating. It's the kind of trip that you'll be thinking about years later – As Observed byMs. Joan Landers (A Former Guest of Trinetra Tours)
Namaste! - We welcome you with folded hands
Day 01: Arrival / Kolkata
Welcome to India, or as we say 'atithidevobhava' (the guest is an incarnation of God). Thank you for giving us the opportunity to serve you!
Late night arrival, Meeting and assistance upon arrival as our representatives welcome you and escort you to your car.
Whilst the room keys and check-in is organized, our representative would introduce the tour to you and hand over the documents to you.
The Oberoi Grand, Kolkata - a 5* Oberoi Group Hotel (Deluxe Room) (No Meals)
Day 02: Kolkata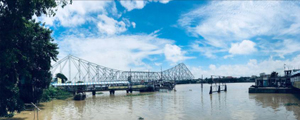 This morning, following breakfast, we will proceed for a full day city tour of Kolkata while clicking the varied images of the city. You get to feel the warmth of the people, the passion, and, the love for their city.
Howrah Bridge: It is popularly known as RabindraSetu. Howrah Bridge in Kolkata spans over river Hooghly and is considered to be a marvellous engineering work by the British. The Howrah Bridge is enumerated amongst the busiest cantilever bridge in the World. It took nearly about 7 long years to construct the Howrah Bridge. The cantilever bridge of Howrah was completed in 1943. The Howrah Bridge in Kolkata was opened to traffic and public in the same year. The total expenditure of making the bridge was nearly £2,500,000
Flower Market: It can also be termed as Heritage Market. Beneath the east end of Howrah Bridge, MullickGhat Kolkata Flower Market is eastern India's largest flower market with hundreds of stalls and people sitting on the ground. Around 2,000 flower growers from the surrounding areas come to sell their flowers and garlands and during the wedding and festive season probably double that number. One can spend hours watching the hustle and the beautiful colours from the bridge.
Vegetable & Fish Markets:: where farmers from the neighbouring regions arrive, and, sell their produce in open bazaars called 'haats'. These bazaars still continue even today. Just notice the changing of smells here - from the Flower Market to Fish market!
Victoria Memorial:: The exquisite marble building of Victoria Memorial stands tall in all its glory. As beautifully it is designed as carefully it has been curated and looks picturesque during the dusk as well as in the sunrise.
St. Paul's Cathedral:: Known as the first Episcopal Church of the eastern world. It is an Anglican cathedral of the Church of North India. Besides, being a religious site, the cathedral is also an architectural marvel. St. Paul's Cathedral is 247 feet in length, 81 feet in width and 114 feet at transept. The flagstaff rises to a height of 175 feet above ground level.
Mausoleum of Job Charnock:: A visit to the memorial of Job Charnock will give you an insight into the life & times of this Englishman. Job Charnock was widely known as the founder of Kolkata, but, the 2003 ruling of Calcutta High Court denied him the legacy. However, history will remember him with its own observation
Kumartuli:: This unique artisan village dates back 400 years, making it perhaps the oldest of its kind in the world. It is the lifeblood of Bengal's biggest festival and keeps the Puja fervor alive among Bengali communities in other countries. Around 250 artists work to produce 40,000 idols a year, including 3500 images of Durga. With more than a thousand workers assisting the artisans, Kumartuli is a mini industry. It exports 50 Durga idols to virtually all corners of the world, including UK, USA, Canada, Germany and Switzerland.
College Street Book Market:: Kolkatans are well-known for their passion for books and this area is a treasure for the book lovers of the city, you can find of them every day spending hours browsing through the loads of new books or bargaining for buying a second hand one. Some of the Kolkata's most renowned academic institutions like Kolkata University, Presidency College, Kolkata Medical College and Sanskrit College are also located in this street. Closed on Sunday & National Holidays.
Indian Coffee House:: Also known as "Albert Hall", this is the most favourite gathering place for the writers, intellectuals, artists and students for many decades. Casual chatting for hours about any issue is the most favourite social activity of any Bengali and here in this large historical and legendary café, entire day you can find hundreds of Kolkatan's are busy discussing about their favourite issue over a cup of coffee.
If time Permits, we will also attempt to visit the Mother Teresa's Missionaries of Charity: Located in the Kalighat area of Kolkata. A bustling neighbourhood which is widely famous for its Temple dedicated to Goddess Kali. Also, Kalighat is one of the biggest Red Light areas in India, and, Mother Teresa's Missionaries of Charity works actively there for the betterment of their lives. Certainly, it will be a memorable experience.
The Oberoi Grand, Kolkata - a 5* Oberoi Group Hotel (Deluxe Room) (B)
Day 03: Kolkata/Chinsurah/Chandnanagore/Kolkata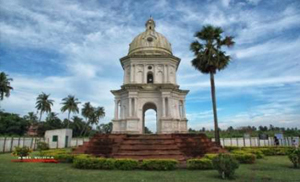 Today, we will drive to the beautiful towns of Chinsurah &Chandnanagore.
We will drive first to Chinsurah located on the picturesque Hoogly River - the former Dutch colony (1615 – 1825) was once considered the most beautiful town of Bengal. Today Chinsurah or Chuchura is just like any small town of West Bengal, crowded, unplanned and accompanied with simple Bengalis busy in their daily chore. However, there is a certain melancholy attached to this place, this is not your regular world – the time seems to stand still here, the pace seems slower, and, the River silently flowing in all her stillness. Although known for its Dutch heritage the prime attraction of Chinsurah is the British built clock tower.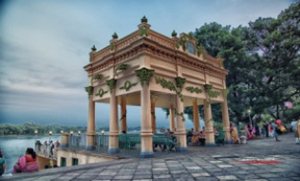 Next, we will visit Chandnanagore. Chandannagor was the French colony. Unlike the other European colonies of Bengal, the French control of Chandannagar continued even after independence and it was only in 1950 Chandannagar became a part of India.
Once a beautiful town with French masons and boulevards, Chandannagar has lost most of its past glory. Today it represents a crowded unplanned town on the banks of the River Hooghly. A few of the French buildings have passed the test of time and can still be seen today reminding one of the French days of Chandannagar, offering a French holiday with a distinctive Bengali twist.
Certainly, the photographer in you will be satisfied today as you witness Bengal at its most native and authentic best.
Later, we will drive back to Kolkata. Upon arrival in Kolkata, we will transfer to your hotel.
The Oberoi Grand, Kolkata - a 5* Oberoi Group Hotel (Deluxe Room) (B)
Day 04: Kolkata/Bagdogra (SG 3220 – 1115 / 1235 Hrs.) Bagdogra/ Ging Tea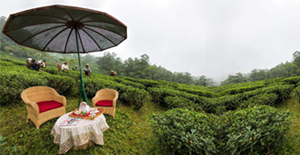 After breakfast, transfer to the Kolkata airport to board the flight to Bagdogra.
Meeting and assistance upon arrival at the Bagdogra airport and we will drive to Ging Tea Estate
Upon arrival check into Ging Tea Estate tastefully restored keeping its colonial heritage intact, while being admirably classy in style. The rooms are royal, with old wooden flooring and exposed rafters on the high ceiling, complete with retro furniture and long curtains. Each suite comes with equally spacious bathrooms replete with all modern amenities. Also, at Ging, you may step out into the gardens to relax while sipping morning tea in the company of the birds while gazing at the majestic Himalayan Mountains.
Overnight at Ging Tea Estate (Standard Room) (B, L & D)
Day 05: Ging Tea Estate
The day is at leisure to soak-in this beautiful natural haven. Stroll the tea gardens, interact with the tea pickers, or you may laze around with your favourite book perhaps.
Overnight at Ging Tea Estate (Standard Room) (B, L & D)
Day 06: Ging Tea Estate /Darjeeling
Morning, we will drive to Darjeeling.
Upon arrival in Darjeeling, check into Hotel Windermere.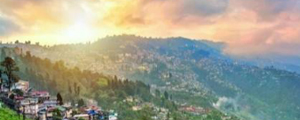 Standing high in the Himalayas at an altitude of 2134m, 'Dorje Ling', or place of the Thunderbolt, offers breathtaking views of snow-capped mountain peaks, with the Kanchendzonga rising higher than all the others. Often referred to as the "Queen of the Hills", it remains just as alluring with its tiny waterfalls, little villages and a narrow gauge railway track. Surrounded by World Famous Tea Gardens and snow capped mountains, Darjeeling remains one of the most exotic destinations. Graeme Westlake in his book 'An introduction to hill stations on India' refers to Darjeeling as having "A view Scarcely Unrivalled on Earth".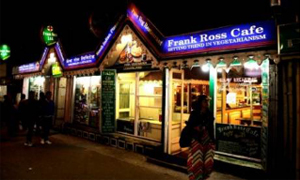 The afternoon is at leisure. We would suggest a walk to Observatory Hill. As the name suggests, this place on a hill top is one of the greatest spots in Darjeeling to observe the panoramic views of the mountains and it also has a temple at the summit called the Mahakal Temple. The Observatory Hill is located at the Mall area and is encircled at its bottom by the Mall Road. As you walk along the Mall road, you will see the Observatory Hill rising on one side. The rewards of the walk are awesome. As you take the Mall road from the right side of Chow Rasta Mall, about 100 yards away you will find flights of stairs that lead towards the Observatory Hill and the Mahakal Temple. This is the city center of Darjeeling and a lovely place to walk and be with the locals. You could shop at local crafts store or sit on the first floor of the Keventers restaurant sipping coffee and watch the world go by. 
Overnight at Windermere Heritage Hotel (Superior Room) (B & D)
Day 07: Darjeeling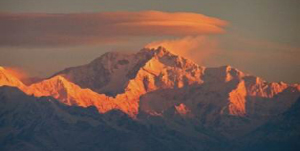 Early morning visit Tiger Hill and Ghoom Monastery.
Tiger Hill: - It is 13 kms from Darjeeling and one can see beautiful sunrise and Himalayan Range like Kanchandzonga , Mount Everest etc. One can see the horizon changing colors just before sunrise and then the entire Himalayan range turn golden. It is truly a majestic sight.
Ghoom Monastery:: - This is oldest Monastery in the area which was built in 1875 and one can see the image of Mythey Buddha 15ft. height on the way back from Tiger Hill. After breakfast proceed to the Darjeeling Railway station to enjoy World Heritage Toy Train ride up to Ghoom.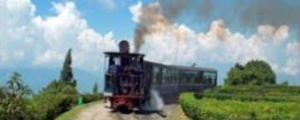 Toy Train: The spectacular landscape unfolds as the 2-foot gauge Darjeeling Himalayan railway, opened in 1881, labours at about 10 mph criss-crossing the road. It has tiny 4-wheel locomotives (some over 100 years old) like living legends. One can experience the sound, smell and romance of a bygone era. DHR is a work of genius and technological achievement of 1881. It has social and cultural importance. It is beautiful and has outstanding universal appeal. Based on its unique features, it is considered to be of lasting significance to mankind.

Afternoon proceed for city tour:
Japanese Temple & Peace Pagoda: There is a wonderful Japanese temple located at a 10 minutes driving distance from the Darjeeling town center. The temple is also known as the NipponzanMyohoji Buddhist Temple. The two storied white building was built in a traditional Japanese style in the year 1972.
Close to the temple is the Peace Pagoda that showcases four avatars of Lord Buddha. From the top of the Pagoda, you get a panoramic view of Darjeeling landscape including the Kanchenjunga range.
Tibetan Self- Helf Centre Or Refugee Centre: - This institute is run by Tibetan Refugees to preserve their handicrafts and one can see making of Tibetan Carpets, Leather work, Paintings and Wooden work etc.
Overnight at Windermere Heritage Hotel (Superior Room) (B, L & D)
Day 08: Darjeeling / Bagdogra - Bagdogra / Kolkata (G8 537 – 1445 / 1600 Hrs.)
After breakfast we will drive to the Bagdogra airport to board the flight to Kolkata.
Meeting and assistance upon arrival at the Kolkata airport and we will transfer to the hotel, Oberoi Grand.
The Oberoi Grand, Kolkata – a5* Oberoi Group Hotel (Deluxe Room) (B)
Day 09: Kolkata / Bawali Rajbari (35 Kms) (02 Hrs Drive)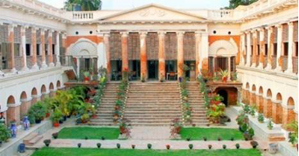 Morning, following breakfast, we will drive to Bawali Rajbari (Royal Palace).
BawaliRajbari is where life is undisturbed & kind. At there, we will witness the royal past as well as the greener side of Bengal.
Upon arrival, check into the 300-year-old palace previously belonging to the Zamindars (Landlords) of Bengal during the British Raj - the BawaliRajbari. Situated in the verdant country around Kolkata, this is where you can relax, unwind, and, rejuvenate yourself. Moreover, this beautiful palace hotel allows you to get back into the lap of nature, far from the madding crowd, but never too far from comfort and luxury. Each of the 30 spacious rooms is well equipped with striking carved stone floors, antique furniture's, and, wooden furnishings.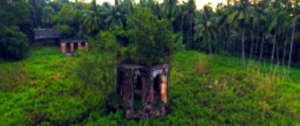 Later in the afternoon, we will walk through the country side around BawaliRajbari where you will get to hear the different echoes coming from far & wide, and also you will witness the ancient temples, the generous 'pukurs' (small fish ponds), the village sounds of temple bells, and, the hustle of evening chores. Here, you will also observe despite a mobile phone in every villager's hand, time seems to have stilled, the pace seems slower and nature spreads her tranquil touches everywhere. All in all, you will experience the romance and the spirituality of being a part of the world that is long lost to our times.
Overnight at Bawali Rajbari (Classic Heritage) (B)
Day 10: Bawali Rajbari/ Kolkata (35 Kms) (02 Hrs Drive) - Kolkata / Departure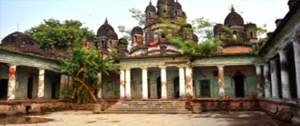 The Rajbari Bawali is surrounded by 5 Krishna temples that date back to about 500 years. This morning, following our breakfast; we will proceed to witness these beautiful temples and experience the sound of bells, drums, chants, and, the smell of freshly lit incense sticks. A truly uplifting experience.
Later in the afternoon, we will drive back to Kolkata. In time transfer to the airport for your flight back home.
No Hotel Quoted For This Day
END OF SERVICES
We do hope the flavor of India will remain on your taste buds for all times to come and hopefully would kindle an indelible fondness for the country and her people; Thank you for being our guest, and as we say in India 'Please Come Back Soon"
Thank you for giving us the opportunity to serve you!!
Tour Cost For 02 People Traveling Together On Twin Sharing Basis: -
| | | |
| --- | --- | --- |
| TOUR COST (INCLUDING AIRFARES) | 01st April 2019 to 30 September 2019 | 01st October 2019 to 31st March 2020 |
| Total Tour Cost (1) + (2) = | INR 142,850*Per Person | INR   157,550* Per Person |
*The above quotes not Valid for Christmas & New Year Period.
*Quotes Based On Accommodation Listed In the Above Itinerary – (Subject To Availability)
Cost Includes :
Accommodation on Twin Sharing Basis
Meals as per the itinerary only (B – Breakfast, L – Lunch & D – Dinner)
Chinsurah & Chandnanagore Excursions
Bawali Rajbari Heritage Walks
Toy Train in Darjeeling
Trip to Ging Tea estate will be done using NAC Sumo
All Journeys As Per Itinerary In A Fine Air Conditioned MUV Toyota Innova (www.toyotabharat.com)
Inner India airfares as per the itinerary (Subject to change and 100% cancellation charge)
Local English Speaking Guides as per the Itinerary
All applicable taxes
Cost Does Not Include :
Meals other than mentioned above
Entrance / Camera & Video Fee to monuments
Personal expenses like drinks, laundry, tips
3% Credit Card Transaction Fees