Israel - Holy Land Tour
Total Days : 4 Day
Tour Destination : Jerusalem, Masada, & Dead Sea.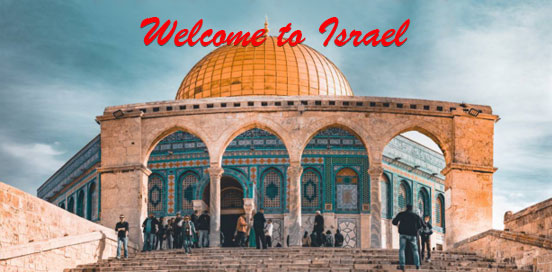 During our time in Israel - regarded as part of the Holy Land on earth, we have you visiting numerous destinations that are popular among tourists such as Jerusalem, Nazareth, Haifa and many more. The food culture of Israel is also rich in all of its aspects. Dozens of ancient sites scattered around Israel are world-famous for their association with iconic events and the settings of religious stories. Floating in the heavily salinated Dead Sea is a unique experience for all.
Day 01: Arrival/ Tel Aviv/Jerusalem

Welcome to Israel! After arrival at Ben Gurion airport, you will be met by our transfer representative and transferred to your hotel in Jerusalem.
Overnight in Jerusalem

Day 02: Jerusalem, old city and new city
Start the day with a magnificent panoramic view from the Mount of Olives. Drive to the Old City. Visit the Roman Cardo, the Herodian quarter and continue to the Western Wall. Walk along the Via Dolorosa and visit the Church of Holy Sepulcher. The tour continues with a visit to Yad Vashem, Israel's memorial to the six million lost their lives in the Holocaust.
Overnight in Jerusalem
Day 03: Masada, Dead Sea

Drive through the Judean Desert to the Dead Sea, the lowest point on earth, almost 1300 feet (400 meters) below sea level. Drive along the shores of the Dead Sea to Masada. Later, ascend by cable car and tour the ancient fortress where the Zealots made their last stand against the Romans before committing mass suicide in 73 AD. Descend by cable car. Continue to the Dead Sea. Cover yourself with the mineral rich mud and experience a swim in the Dead Sea, weather permitting, that many believe has its therapeutic effects.
Overnight in Jerusalem

Day 04: Jerusalem/Departure
Our representative will escort you to the airport for your onward flight towards the next destination.
END OF SERVICES
PS: The proposed is only a sample schedule and not written on stone. We would strongly encourage you to share with us your added travel needs so that we could customize the vacation further to align better with your requirements.