God has designed this region in a way that nothing has escaped. From ancient temple ruins to carefully preserved cultures. Of course,  the spirituality enhances the experience with the soothing smells of the incense sticks and the healing smiles of the monks. Add to this, the culinary delicacies on the roadside stalls you will feel that you are eating at a five-star joint such is the taste. Everything about this region is special,  one that stays with you all your life.     
Day 01: Saigon

Arrival in Saigon (Ho Chi Minh City)
Meeting assistance upon arrival, our representative will welcome you and escort you to your hotel.
Transfer
Overnight in Saigon
Day 02: Saigon (B)
This morning Sightseeing in Saigon [Half day] (4 hours)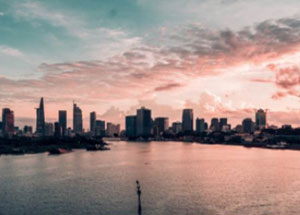 A lively city, Saigon teems with vigor, energy and motion. One of the best places to observe the great colossal of cultural and social convergence of old and new. Begin the trip into modern history with a tour of the Reunification Palace. Formerly the Independence Palace of the South Vietnamese president, this 60s style building was famously stormed by tanks on April 30, 1975 signifying the fall of South Vietnam. It has been preserved in its original state, and the original tanks remain on display near the entrance gates.
Afterwards, drive to the historic centre to visit the Emperor of Jade Pagoda, one of Saigon's most interesting pagodas. Proceed to pay a quick visit to the neo-Romanesque Notre Dame Cathedral and the Central Post Office. Pass by the classic European-style landmarks such as the ornate City Hall (Hotel De Ville), the old Opera House (both may only be viewed from the outside). Finally, end up at the central Ben Thanh Market, where vendors display a vast array of goods and handicrafts, appealing to every taste.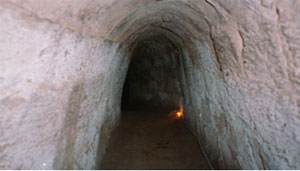 Excursion to Cu Chi Tunnels (5.5 hours)
Your trip to this part of the world would not be complete unless you will visit the Cu Chi Tunnels. Never discovered by American forces, the Cu Chi Tunnels were an important Vietcong base during the American War. Stretching over 200 km, this incredible underground network, dug by hand out of hard laterite, connected command posts, hospitals, shelter and weapons factories. Today, walk through the area and learn about the day to day life of the Vietcong, bear witness to the cleverly disguised entrances and elaborate booby-traps, and even venture inside the tunnels, some of which have been modified to accommodate tourists.
Overnight in Saigon
Day 03: Saigon (B, L)

Authentic River Life by private Sampan Cai Be - Vinh Long (full day)
We arrive at Cai Be jetty at about 10:00 am. As our tour starts, we first visit an ancient house and stop along the way to provide glimpses of local cottage industries: coconut candy and puffed rice (the local equivalent of popcorn), products that provide a living for the river people. Lunch in a colonial-style villa. After lunch, back on Cai Be Princess and head to Vinh Long, via the Dong Phu Canal. Stop on the way to visit historic An Binh Church. Crossing of Co Chien River, disembark at Vinh Long Pier at around 4:30 pm.
Overnight in Saigon
Day 04: Saigon - Danang - Hoi An (B)
Transfer
Flight from Saigon to Danang
Transfer (15 kms)
Sightseeing in Danang (4 hours)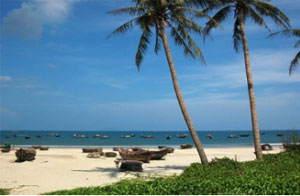 Danang is a thriving regional center and one of the largest cities in Vietnam. We start touring this beautiful city with Cham Museum, an elegant colonial building which now houses the finest collection of Cham sculpture in the world and briefly pass Non Nuoc Beach, a famous spot for American soldiers during the Vietnam-American War in the 1960s. The Non Nuoc Beach stretches for many kilometers north and south of the Marble Mountains. During the American War, soldiers were airlifted here for 'rest and relaxation'.
Continue south to Hoi An, stopping en route to visit the Marble Mountains, five stone hillocks, once islands, that now rise sharply from the surrounding rice fields. Riddled with caves and shrines, they are said to each represent one of the five elements of the universe.
Drive from Danang to Hoi An (30 kms)
Journey south past the Marble Mountains and small villages.
Overnight in Hoi An
Day 05: Hoi An (B)
Sightseeing in Hoi An with a boat trip on the Thu Bon River (6 hours)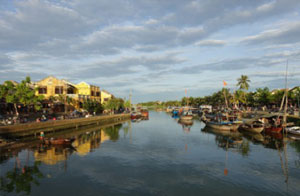 The exquisitely preserved merchant town of Hoi An was declared a Unesco World Heritage Site in 1999. Its colorful shop houses and temples reflect a diverse heritage, dating back to the 16th and 17th century, when it was a major port for Western, Chinese and Japanese traders. Wander through the cobbled streets, past low tile-roofed buildings, the bustling central market and the small harbor where colofully painted boats are moored. The walking tour will include visits to a private house, where members of the same family have lived continuously for centuries in a traditional setting; to one of the family chapels built by prominent merchants and official families as centers for ancestor worship; and to a typical Chinese-style Pagoda or assembly hall. Continue to Sa Huynh Museum, located near the Japanese Covered Bridge, it contains exhibitions from the earliest period of Hoi An's history. Visit a handicraft workshop in Hoi An where local products are being made by the industry itself. Finally, continue to the famous Japanese Covered Bridge, first constructed in 1593 by the Japanese community of Hoi An to link the town with the Chinese quarters across the stream.
In the afternoon, board a local boat and cruise down the Thu Bon River, enjoying the unspoiled countryside and stopping to visit a pottery village and a wood carving village before returning to Hoi An harbor.
Overnight in Hoi An
Day 06: Hoi An (B)
Countryside adventure with farming and fishing by electric scooter (4.5 hours)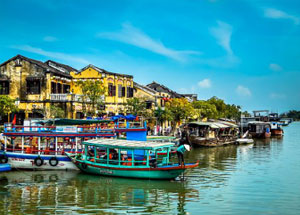 Morning at about 08: 00 AM, on an electric scooter, we will discover the hidden gems of HoiAn as well as the surrounding countryside in a sustainable, and, Eco-friendly way. Far from all the material worries on this amazing journey, we will have a different perspective of life -  while you observe the locals wearing colorful dresses, content and joyful within themselves. This tour also includes a visit to a fishing village and the fish market (in a boat) where we will witness the first catch of the day. It is quite beguiling what the fisherman brings in!  Alongside, you can also observe the loading-unloading while your guide will explain the various types of fishes that you see. Overall, an eye-opening and engaging experience to know that how much the fish travels before it finally comes to our platter.  After then, we will travel to Thuan Tinh Port at Cam Thanh where we will take our Scooter to the house of a local farmer and experience the whole process of wet rice cultivation. Here, you will have an opportunity to work as a  rice farmer in this farmer's rice field with a friendly water buffalo to accompany you. Later, we will visit the farmer's house where we enjoy a special lunch and spend quality time with the family.
The rest of the time is at leisure.
Overnight in Hoi An
Day 07: Hoi An - Danang - Hanoi (B)

Transfer to Danang airport (35 kms)
Flight from Danang to Hanoi
Transfer (35 kms)
Overnight in Hanoi


Day 08: Hanoi (B, D)
Today, we will begin our tour in Hanoi.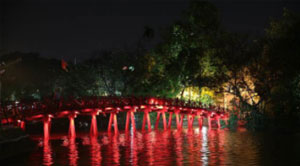 From French architectural legacies to the iconic local markets and, clogged traffic, we are certain that this city will give you a head start - Hanoi is special, to say the least. Besides, Hanoi still retains the enigma and magic of past centuries, with its narrow lanes and traditional shop houses.
We will start our day tour by visiting the vast Ho Chi Minh Memorial Complex with a stop at the Ho Chi Minh Mausoleum which contains the embalmed body of Ho Chi Minh (closed Mondays, Fridays and during September and October). Thereafter, we will visit the Ho Chi Minh's Stilt House, where the great leader of Vietnam lived from 1958 until his final days in 1969. Preserved in the same condition as during his life, it may be viewed through the windows.
Continue the tour, with a visit to the miniature 11th century One Pillar Pagoda which was rebuilt after being destroyed by the French in 1954. Afterwards, visit the Temple of Literature with its walled courtyards and graceful gateways. Afterwards, head to the Museum of Ethnology (closed on Mondays - alternative to visit the Vietnamese Women's Museum). This museum showcases art, traditional clothing and reconstructions of traditional longhouses from 54 different ethnic groups. In the late afternoon, visit the Hoan Kiem Lake which contains an islet with the tiny Tortoise Pagoda and enjoy the coffee. Take the green electric buggy to the Old Quarter.
Experience street foods (private, dinner, tour) (2 hours)
Start the tour at about 18.00 hrs. Discover many old eateries serving various mouth watering dishes on the streets of this multi-cultural city.. Walk around the narrow lanes and then pull up a plastic stool at some of the outdoor street cafes and try Vietnam's most famous delicacies such as grilled skewers, several kinds of Pho, or hot pot during the cooler winter months.
Overnight in Hanoi
Special note: The street food tour doesn't operate on Sundays
Day 09: Hanoi - Halong - Cruise (B, L, D)
Drive from Hanoi city to Halong Bay (160 kms)
Transfer to/from Tuan Chau Marina Port (10 kms)
Cruise aboard La Vela Cruise through Halong Bay (English speaking guide is included) (No guide)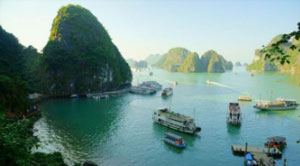 Arrive at Tuan Chau Island. Transfer to cruise ship. Welcome drink - cruise briefing, safety instructions, check-in cabins. Depart to Halong Bay - cruise and program commence. Enjoy lunch while the cruise sails passing by magnificent sceneries of the World Heritage site. In the afternoon, explore Sung Sot cave, hiking up and down 600 steps to the magnificent limestone formations of the biggest and most marvelous cave in Halong Bay or enjoy kayaking (with supplement) around the Luon cave area. Back to the vessel and participate in cooking demonstrations with cruise's chef. Dinner on board. Overnight on board.
Overnight in Cruise
Special note: Local English speaking guide on board, provided by the cruise company.
Day 10: Cruise - Halong - Hanoi - Luang Prabang (B)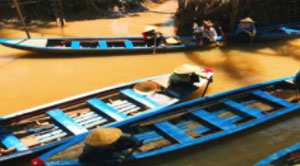 Cruise aboard La Vela Cruise through Halong Bay (English speaking guide is included) (No guide)
Join an early morning Tai Chi session on the sun deck while tea, coffee and assorted pastries are being served. Relax on board or go visit Titov island. Back on board enjoy breakfast, check out and return to Tuan Chau Island.
Drive from Halong to Hanoi (Noi Bai Airport) (160 kms)
Flight from Hanoi to Luang Prabang.
Arrival in Luang Prabang
Meeting assistance upon arrival, our representative will welcome you and escort you to your hotel.
Overnight in Luang Prabang
Day 11: Luang Prabang (B)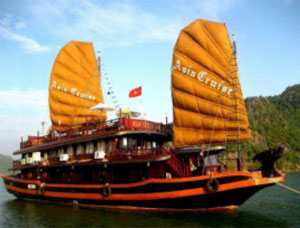 Today, we will begin our full day tour in Luang Prabang (8 hours). Set between the Nam Khan and Mekong rivers, Luang Prabang a UNESCO World Heritage Site is an enchanting town filled with historic temples and colonial style buildings.
We will start our day tour by visiting the Wat Visoun (Wat Wisunalat), the oldest living temple in Luang Prabang, Wat dating back to 1513 and contains a collection of antique wooden Buddhas. Next, we will visit the nearby Wat Aham before continuing to Wat Xieng Thong, the crowning jewel of all the monasteries and temples in the city. From there, stroll down the main street of Luang Prabang, stopping at some of the many temples that line its sides, including Wat Sibounheuang, Wat Si Moungkhoun, Wat Sop and Wat Sene.
Continue to the National Museum (Royal Palace), a modest but graceful building which combines traditional Lao and French beaux-arts motifs. This turn-of-the century royal residence has been preserved as it was when the royal family last lived here and provides unique insights into the history of Laos. Then, visit Hor Phrabang. In the right front corner room of the Palace, which opens to the outside, is a collection of the palace's most prized art, including the Phrabang, cast of a gold, silver and bronze alloy. This Buddha stands at 83 cm tall and weighs around 50 kg. Afterwards, visit Wat Mai.
Overnight in Luang Prabang
Day 12: Luang Prabang - Siem Reap (B)

Excursion to Kuang Si Waterfalls (3 hours)
From Luang Prabang, travel by vehicle to to the Kuang Si Waterfalls. A perfect natural setting near Luang Prabang, this multi-tiered waterfall tumbles over limestone formations into a series of turquoise pools.
Transfer.
Flight from Luang Prabang to Siem Reap
Meeting assistance upon arrival, our representative will welcome you and escort you to your hotel.
Overnight in Siem Reap
Day 13: Siem Reap (B)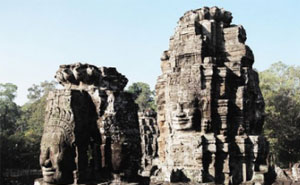 Sightseeing in Angkor (8 hours)
Explore the fortified city of Angkor Thom, enclosed by a wall and wide moats. Enter by the monumental South Gate over a causeway lined on either side by statues of demons and gods. Continue to the mysterious Bayon Temple to explore the galleries of beautifully preserved bas reliefs and photograph the beautiful giant smiling stone faces.Visit Ta Prohm, one of the most spectacular temples of Angkor. The jungle around this temple has not been cleared and it looks very much as it would have appeared when European explorers first stumbled across it. Also visit the beautiful and ethereal Banteay Srei. Built of pink sandstone, the walls are covered in exquisitely preserved carvings of unusual delicacy. Finally, watch the sunset over the Cambodian countryside from the upper terraces of an ancient Angkorian temple.
Overnight in Siem Reap
Day 14: Siem Reap (B)
Sightseeing in Angkor (4 hours)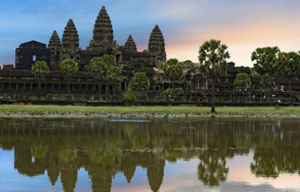 The crown jewel of Khmer architecture, Angkor Wat is the national symbol and the highlight of any visit to Cambodia. The largest, best preserved, and most religiously significant of the Angkor temples. Upon entering the main structure, ascend through a series of galleries and courtyard before reaching the central sanctuary, which offers beautiful views back over the causeway and across the surrounding countryside.
Excursion by boat to Chong Kneas floating village and visit Phsar Chah (Old Market) (4 hours)
Take a boat ride to Chong Kneas Village to view the scenery and day to day life of the communities living around the lake. Visit Psah Chah Market, originally destroyed by the Khmer Rouge in 1975 and reopened in 1996. It has many interesting food stalls and souvenir shops.
Overnight in Siem Reap

Day 15: Saigon (B) / Departure
Our representative will escort you to the international airport for your onward flight towards the next destination.
END OF SERVICES
PS: The proposed is only a sample schedule and not written on stone. We would strongly encourage you to share with us your added travel needs so that we could customize the vacation further to align better with your requirements.