Golden Triangle Tour With A Human Face!!
Total Days : 09 Day
Tour Destination : Delhi, Agra, Fatehpur Sikri, Abhaneri, Rusi Rani Village, Jaipur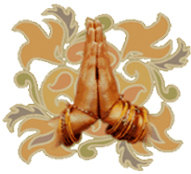 Namaste! - We welcome you with folded hands
Active and Unique Highlights
Time with an NGO working to rehabilitate street children.
Off Road Full Day Adventure To Discover A Rural Village Untouched By Our Times.
Cycling Through The Backstreet and Countryside Of Jaipur.
Camel Ride Through Rural Outback's.
Optional Cooking And Dinning With An Indian Family.
Optional Up-Close Experience With Elephants.
Day 01: Arrival / Delhi
Mid Morning arrival, meeting and assistance upon arrival as our representatives welcome you and escort you to your car
Whilst the room keys and check-in is organized, our representative would introduce the tour to you and hand over the documents to you. (Though Check – in time is 2:00 PM, every effort would be made to ensure an as early as possible check-in - subject to availability)
Welcome to India, or as we say 'atithidevobhava' (the guest is an incarnation of God). Thank you for giving us the opportunity to serve you!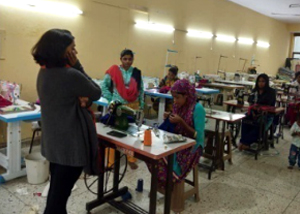 After rest and relaxation, we will visit an NGO that works for the rehabilitation of street women. This tour would be an insightful experience for a visitor desiring to learn about stories of real India working hard to make a living against the harsh challenges occasioned by the accident of their destiny. Yes, please, we are talking about an interactive workshop with women who have seen and have been through many hardships in life. However, they have refused to accept the commands of destiny, and have carved a unique path that has started to wield results and bring smiles to their families as well. We start our session with a warm welcome by the ladies at the workshop where they will greet you with a bright smile, and will share the stories of their past. They explain more about their work here, and how this NGO has helped to stand on their own in their respective lives. Then, these ladies will encourage you to participate with them where they demonstrate the various nuances of making beautiful and elegant handicraft items. With their not-so-good English they will converse with you, but, you will probably understand everything as language is no more a barrier when hearts attempt to communicate with each other.
Overnight at Jaypee Siddharth Hotel (Standard Room)(No Meals)
Day 02: Delhi

After breakfast, we proceed on a guided tour of New Delhi, Visiting such sights as, Humayun's Tomb (1586), the QutubMinar 72 meters high and one of the most perfect towers in the Persian world. The Iron Pillar which has survived the vagaries of weather for over 1500 years. Continue with a drive through Embassy area, the Government buildings (1921-1930) and Connaught Place, the heart and main shopping district of the capital. We will also visit India Gate.
Following the tour, we cross the city and into the walled gates of the Old city with visits to the Jamma Mosque (1650) and drive through the fabled area of ChandniChowk (aptly translates to Moonlight Square) where the throngs of shoppers and vendors meet in the oldest area of Delhi. Visit the Raj Ghat and nearby ghats where the founder of the nation, Mahatma Gandhi and thereafter Indira Gandhi and Rajiv Gandhi were cremated.
The highlight of this tour would be a ride on cycle rickshaws. Now these are 3-wheel cycles with a sofa seat at the back. The Rickshawala (Rickshaw driver) sits on a small cushion in the front and two passengers on the sofa seat behind. This is a remarkable way to explore and picture the hustle and bustle as well as the color of the narrow winding streets bursting with people and pavement shops selling wares of all description - including a laughing set of dentures. The ride would be accompanied by peals of laughter both from the passengers as well as the onlookers.
Overnight at JaypeeSiddharth Hotel (Standard Room)(B)
Day 03: Delhi / Agra (205 Kms) (04 Hrs Drive)
Following a leisurely breakfast drive to Agra
(Though Check – in time is 3:00 PM, every effort would be made to ensure an as early as possible check-in - subject to availability)

Upon arrival in Agra check into hotel Crystal Sarovar Premiere Agra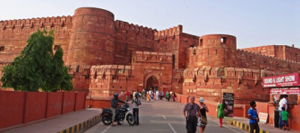 After rest and relaxation,we ride to the massive Agra Fort. The elegant buildings inside reflect an interesting synthesis of Hindu and Central Asian architectural styles, built by Emperor Akbar, the maze of the courtyards, mosques & private chambers of the fort echo the story of the Mughal Empire
Following the tour, we will visit MehtabBagh. The MoonlightGarden was an extension of the TajMahalGarden - on the other side of the river. In 1652 Aurangzeb wrote to his father telling of a visit to 'the blessed tomb and commenting that the MehtabGarden was completely inundated and has lost its charm, but soon it will regain its verdancy. The octagonal pool and the pavilion around it are in splendid condition. The MehtabBagh was lost under the mud but re-excavated in the 1990s. Originally, the garden was planted with fragrant flowers and used in the cool of the night as a place from which to view the Taj Mahal reflected in the octagonal pool and in the river.

SUGGESTED OPTIONAL ACTIVITY
You have an option to experience Cooking Demonstration & Meal with An Indian Family: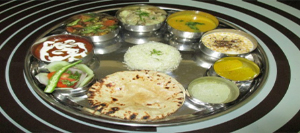 We take you in pursuit of a truly natural and cultural experience in an Indian home. A land which is typically known for its spices - your hosts will help you to discover the true flavors and preparations of Indian food in a comfortable and informal manner. The laughter and the entertaining conversations will only be the add-on of this session, along with the mouth-watering food and memories to take away. We will, of course, advise you to take your cooking class seriously, as, what you put in the pan, will eventually appear on your plate!! However, we must assure you that your cooking class is not all about slaving over a hot stove. Your host would make your visit a special event, by engaging with you at all times, helping you learn the relevance of various spices, and, knowing little, but, less known secrets of the Indian kitchen. The event is guaranteed to be an occasion that would tickle your heart through the route of your stomach.
Cost for Cooking Demonstration and Meal with an Indian family: INR 1800 Per Person
Overnight at Hotel Crystal Sarovar Premiere Agra (Premium Taj Facing Room) (B)
Day 04: gra / FatehpurSikri/ Abhaneri(167Kms) (03Hrs Drive) (Taj Mahal Is Closed On Fridays)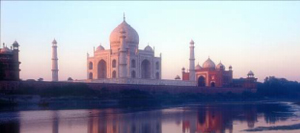 Agra is the city of the Taj Mahal, perhaps the most photographed monument in the world. However, there is a degree of enigma about the Taj. Once you hear about a building so much and once you see so many pictures of a building your expectations are real high; and this is the enigma about the Taj Mahal. No matter how many pictures you have seen or no matter how high your expectations are the Taj never lets you down - the unparalleled glory and beauty of the building surpasses beyond all human imaginations. At sunrise we visit one of the greatest sights of one's lifetime - Taj Mahal. A dawn visit to the fabled Taj Mahal to witness the magical effects caused by the reflections of the changing colours of the rising Sun on this brilliant white marble building. Later we return to hotel for breakfast.
(Though the check out time is 12 noon, every effort would be made to retain rooms till as late as possible without additional charges - subject to availability)

After breakfast we drive to Abhaneri stopping at deserted capital city of FatehpurSikri. This abandoned capital of the Mughals is a perfectly preserved city at the height of the empire's splendor. The city divided into religious and secular parts has interesting well-sculpted buildings. From here we continue riding to Abhaneri.
Upon arrival check into Abhaneri Village Safari Camp in Dausa district of Rajasthan. Here, we will stay in beautiful as well as traditional tented camps loaded with all the modern amenities that one looks for. Enjoy every moment of your stay; you can opt for village walks where you can spend time with village families helps you to know more about their culture, norms, and, way of living.
Later, experience a camel ride through outback country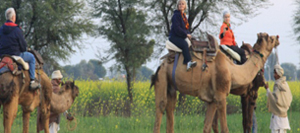 The most popular must do's while in Rajasthan is a camel ride. We will take you through the countryside, and, beautiful fields where you will witness how fruits are grown using traditional techniques. A glimpse into the cultural life of these villagers of Abhaneri can definitely be a value addition to your experience.
Later, enjoy the beautiful evening at the comforts of your camp along with your dinner. A perfect opportunity to admire nature, and, catch up with one's own self Overnight At the AagmanAbhaneri Village Safari Camp (Luxury Tents) (B & D)
Day 05: Abhaneri /Rusi Rani / Jaipur (172 Kms) (04 ½ Hrs Drive)
After breakfast, we will arrange a local sightseeing of Abhaneristepwells. The latter is among the largest, if not the largest, and perhaps the most visually spectacular stepwells, Chand Baori is a deep four-sided structure with an immense temple on one face. 3,500 Escher-esqe terraced steps march down the other three sides 13 stories to a depth of 100 feet. The construction dates to the tenth century, and is dedicated to a goddess of joy and happiness. There is no guide here, but, the driver would take you to the site for self exploration.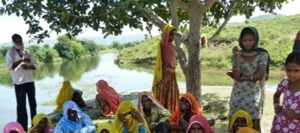 Later, we drive to Jaipur via Rusi Rani Village for an up close Indian experience. We will drive in car till the local Narani Mata Temple. Rusi Rani Village describes the intimate magic of a small town. Today, this picturesque neighborhood is better known for its tradition and simplicity. Rusirani is home to an assortment of hand art work, few attractive temples and lush green fields that add to the beauty of this place. Here, you will be visiting the local village temples and you will be introduced to the local village families over a refreshing cup of tea. The village children are extremely friendly and playful. Also, you will have an interaction with groups of villagers. This would be an opportunity for you to appreciate the beliefs and values of people whose life patterns have remained unchanged for centuries. Also, if willing, you can join in cooking activities of the villagers. This could also be the meal that you might be having for yourself!! The natives are very interactive and will participate in discussions, and share their lives, customs, living conditions and their homes with you. The village community is almost entirely self sufficient, growing all their crops and looking after their livestock. You will savour fantastic homegrown food, like dal (Pulses), chawal (Rice), dahi (Curd), chhach (Buttermilk), sabji (Seasonable vegetable), Roti (Three types of roti – wheat, millet, and corn breads) and one local dessert.
You will also visit the local markets that have a unique collection of artworks for taking back some mementoes. The accommodation facilities are basic; you will find them totally unique, but, adequate.
If you want to take a walk hundreds of year back in the past, then, Rusirani village is your destination.
Following the tour of Village we will drive to Jaipur
Upon arrival in Jaipur, check into Shahpura House, the Traditional Rajput architect, a mixture of Mughal and Indian, a facade with domes and frescoes. The House is a very fine example of Shekhawati frescos and architecture. Conceived as a traditional Indian palace, The Shahpura House showcases the rich heritage of the Shekhawati region of Rajasthan with its rambling courtyards, gentle rippling fountains, reflecting pools and gardens. Interiors embellished with decorative domes, hand painted frescoes, intricate mirror work and beautifully crafted artifacts create an ambience of regal splendour, the family portraits, which add to the charm of this family hotel where tradition still runs strong.
Overnight at Shahpura House (Suite Room) (B & L)
Day 06: Jaipur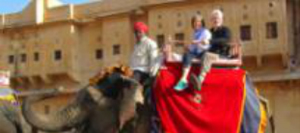 Morning we will visit Amber enroute the HawaMahal or Palace of the Winds, a five-storied structure of pink sandstone with semi-Octagonal and delicately honeycombed windows overlooking the main street of the old city. It was built in 1799 so that veiled royal women could peer down unseen by the world through its 593 stone screens
We visit Amber Fort, the former capital of the royal Jaipurs. Few fail to be moved by the dramatic Rajput grandeur of this hilltop fortress-palace 11 km north of Jaipur. Set on the dry wrinkled Aravali Hills, and surrounded by fortified battlements, the palace straddles two sepia-hued tundra hills overlooking MaotaLake, and its sprawling crenellated walls lattice the surrounding hills.
We will ride up to this hilltop palace on a caparisoned, painted elephant, passing through the ancient main gate where Maharajas of Jaipur have entered for four hundred years. Our guide will elaborate on the history of this architectural masterpiece with its mirror-studded alcoves, dazzling mosaics and water-cooled swings that delight today's visitors as they did their former royal residents
Following the tour, we visit the PannaMeenakaKund . This beautiful place was constructed during sixteenth century. The place was mainly utilized as a place of social meetings. People from nearby places come here for getting water, swimming or just to hang out with their loved ones. During ancient times, this place was utilized mainly as water protect pool. This beautiful Kund has a unique architecture and styling. This Kund was designed by a Brahmin and constructed by craftsmen and engineers.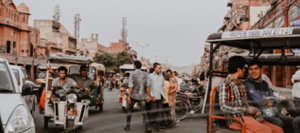 Evening, we proceed on guided walks along the lanes and bye-lanes of the old city. The city is best-explored on foot and only the inquisitive visitor willing to go into the rastaas (streets) and galis (lanes) will feel the spirit of the city. Jaipur's colorful bazaars tantalize the eye with enameled blue pottery, exquisite gem-studded jewelry, engraved brass work traditional block-printed fabrics and brightly patterned dhurrie rugs together with traditional crafts and miniature painting.

SUGGESTED OPTIONAL ACTIVITY
You have an option to experience Up Close with Elephants (Eleday)!!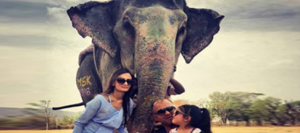 A visit to an Elephant farm to have exclusive timeOut with the adorable jumbo. It is here we get a chance to get up close and personal with the gentle giant. Upon arrival, we are greeted with welcome beverages. After the drinks, we start the day with elephants. We learn how to get comfortable around the enormous but amiable animal and establish with them a relationship based on trust. Also, we are taught some basic aspects of elephant communication which is very helpful during our stay here. You might be surprised to know that there is a certain language to communicate with the elephants.

Cost for a Unique & Inspiring Session with the Elephants: INR 3500 Per Person
Overnight at Shahpura House (Suite Room) (B)
Day 07: Jaipur
Cycling Tour: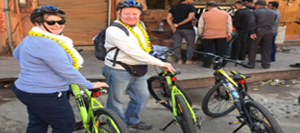 The 3 hours early morning cycle ride will take guests to the walled city of Jaipur to venture out and to explore nearby mountains and lesser known places around Jaipur. The focus here is not to offer a site seeing tour but organize the fun activity for cycle lovers. This trip will be filled with culture, food and fun. Quality brand cycles will be offered to riders. All these tours will lead by an experienced guide. The excursion also includes a packed breakfast, safety helmets, etc. This trip is carefully designed for people of all ages. We will carry first aid kit on all rides.
We will return to our hotel for breakfast.
Later, we proceed on a tour Of the City Palace & Observatory. The CityPalace in the heart of the old city is a blend of Rajasthani and Mughal architecture. The fortified wall has seven gates and was built for protection from invading armies and animals that lived in jungles, which surrounded the wall that time. Next, we visit the Solar Observatory - an astronomical treasure house, with solar device that give accurate predictions till date.

Overnight at Shahpura House (Suite Room) (B)
Day 08: Jaipur / Delhi (270 Kms) (06 Hrs Drive)
After rest and relaxation
(Though the check out time is 12 noon, every effort would be made to retain rooms till as late as possible without additional charges - subject to availability)
Later, we will drive to Delhi along one of the India's finest freeways.
Upon arrival in Delhi check into hotel NovotelNew Delhi Aero city
Rest of the day is on leisure for your independent activity (Car and driver available for local visits)
Overnight at Hotel Novotel New Delhi Aero city (Standard Room) (B)
Day 09: Delhi / Departure
(Though the check out time is 12 noon, every effort would be made to retain rooms till as late as possible without additional charges - subject to availability)
In time, we transfer you to the international airport to board your onward flight
No Hotel Quoted for this day
END OF SERVICES
We do hope the flavor of India will remain on your taste buds for all times to come and hopefully would kindle an indelible fondness for the country and her people; Thank you for being our guest, and as we say in India 'Please Come back Soon"

Thank you for giving us the opportunity to serve you!!

Tour Cost Based On 02 People Traveling Together Sharing 01 Room:
Cost valid for period from 01st April, 2019 till 30th September, 2019: - INR 58,600* Per Person
Cost valid from 01st October, 2019 till 31st March, 2020: - INR 70,250* Per Person
NOTE: -
Hotel upgrades available upon request.
Cost Includes :
Accommodation on Twin Sharing Basis
Meals as per the itinerary (B – Breakfast, L – Lunch & D- Dinner)
Interactive NGO Workshop Visit
Old Delhi Rickshaw Ride
Abhaneri Village Safari Camp
Elephant ride at Amber Fort in Jaipur
Full day excursion of Rusirani Village
Biking tour in Jaipur
All journeys as per itinerary in a fine air-conditionedSedan Car
Local guides
All applicable taxes
Cost Does Not Include :
Meals other than mentioned above
Entrances/Camera & Video Fee to monuments
Expenses of Personal nature such as Laundry, Drinks, Telephone calls etc.
3% Credit card transaction Fee