Discovering The Cultural & Culinary Heritage Of North India!!
Total Days : 09 Day
Tour Destination : Delhi, Lucknow, Jaipur, Fatehpur Sikri, Agra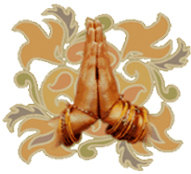 Our friends keep asking us how we liked our trip. I tell them that it was an education in culture, history and religion. I thought India was overwhelming at times, but found it colorful, spiritual and fascinating. It's the kind of trip that you'll be thinking about years later – As Observed By Ms. Joan Landers (A Former Guest Of Trinetra Tours)
Namaste! - We welcome you with folded hands
Day 01: Arrival / Delhi
Welcome to India, or as we say 'atithi devo bhava' (the guest is an incarnation of God). Thank you for giving us the opportunity to serve you!
Late night arrival, meeting and assistance upon arrival as our representatives welcome you and escort you to your car
Whilst the room keys and check-in is organized, our representative would introduce the tour to you and hand over the documents to you.
Overnight at The Oberoi – 5* Oberoi Group Hotel (Premiere Plus Room) (No Meals)
Day 02: Delhi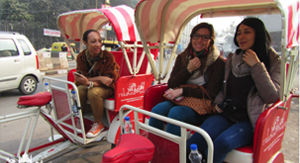 After breakfast, we proceed on a guided tour of New Delhi, Visiting such sights as, Humayun's Tomb (1586), the Qutub Minar 72 meters high and one of the most perfect towers in the Persian world. The Iron Pillar which has survived the vagaries of weather for over 1500 years. Continue with a drive through Embassy area, the Government buildings (1921-1930) and Connaught Place, the heart and main shopping district of the capital. We will also visit India Gate.
We proceed on the tour of Raj Ghat and nearby ghats where the founder of the nation, Mahatma Gandhi and thereafter Indira Gandhi and Rajiv Gandhi were cremated.

Later in the afternoon,we go for a rickshaw tour in Old Delhi - one of the best examples in the world where you can witness the cultural mixtures of "old and new". Uncover the sights, scents, and the flavors of "PuraniDilli" (Old Delhi) while you are sitting comfortably and safely in your cycle rickshaw. Our major highlights would include a visit to the Jama Masjid, Fatehpuri Masjid, ChandniChowk market (literally meaning the moonlit square), DarbaKalan (a 17th century jewel street), Kinari bazaar (a market, especially for wedding & traditional outfits), Kari Baoli (Asia's largest spice market), as well as the narrow alleys of Ballimaran (well-known for the renowned poet MirzaGalib's house). Moreover, the people and the streets here have many stories to tell you about the yesteryears of Delhi!! Yes, Please, this magical ride will give you a perfect opportunity to discover a different Delhi; all Natural and all earthy from the safety of your rickshaw.
Overnight at The Oberoi – 5* Oberoi Group Hotel (Premiere Plus Room) (B)
Day 03: Delhi / Lucknow (AI 431 – 1220 / 1330 Hrs)
After a leisurely breakfast, transfer to the New Delhi airport to board the flight to Lucknow.
Meeting and assistance upon arrival at the Lucknow airport and we will transfer to hotel, Lebua.
In this evening tour, enjoy a curated dining experience at Kotwara House, the residence of one of the oldest royal families of Awadh. Situated in the posh QaiserBagh area of Lucknow, this royal residence of the present Raja Muzaffar Ali is a living museum of art and craft. Enjoy a meal specially curated by Muzaffar Ali and his wife Meera Ali. We will have this opportunity to dine over a curated menu from the royal kitchens of Awadh that will always be fresh on your taste-buds.
Overnight at Lebua – Saraca Estate (Lebua Suite) (B & D)
Day 04: Lucknow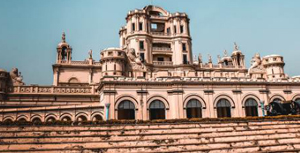 This morning, we will witness the architectural, and historical wonders of Lucknow, and through these beautiful monuments, we will understand a culture of a time surviving now mostly in remains. We will start our day with the La Martiniere College, a rare example of the French architecture in India. Later, we will make our way to Dilkusha Palace &Gardens - this palace was built by a European architect for the Nawab (Ruler) - Sadat Ali Khan. The Nawab saw this building only on its completion and the first words that came to his lips were "DilKhushHua" (My Heart is Pleased), thus it was aptly named "Dilkusha". Later on, we will visit the Residency; a place that used to be the official residence of the British Resident - a place where speechless walls are known to speak the gruesome tale of the 1857 mutiny. From there we will visit the Bara Immambara (also known as AsafiImambara), this sprawling complex was commissioned by the then Nawab of Awadh, Asaf -ud-Daula in the year 1784. This magnificent monument recalls the glorious past of the Nawabs and stands out for its austerity in style, proportion and symmetry along with its unique architecture. The complex also includes the large Asfi mosque, the Bhul-Bhulayah (the labyrinth) and a summer palace with running water. To conclude our tour of nostalgia, we will end with the HussainabadImambara (also known as ChotaImambara), this structure houses the tombs of the builder Muhammad Ali Shah and of his mother and is approached through a fine manicured garden.
This afternoon, following our city tour of Lucknow, we will meet the Nawab of Awadh personally, a family descendant over a tea session. Enjoy this personal meeting with Nawab Sahib and converse on diverse topics of history, craft and cuisine.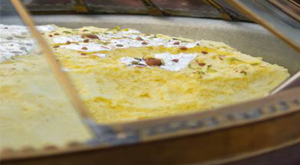 Later in the evening, we will go for a Food Walking Tour in the Nawabi city of Lucknow . The culinary delicacies of Lucknow illustrate the harmonious blending of diverse and royal influences over the centuries. This special food walk will let you through the by-lanes of this miraculous place. You would have a perfect glimpse of the variety of mouth watering foods cooked on the streets - an attribute for which Lucknow is renowned in India. Besides, food in Lucknow has its own identity. The city has given this country unique, and tasty delicacies like kormas, kaliya, nahari-kulchas, roomalirotis, warqiparathas and above all kebabs–of different types.
Overnight at Lebua – Saraca Estate (Lebua Suite) (B & D)
Day 05: Lucknow / Jaipur (6E 451– 1630/ 1755 Hrs.) (Except On Tuesday)
After a leisurely breakfast check-out from your hotel, and proceed to discover the markets of Lucknow.
(Though the checkout time is 12 noon, every effort would be made to retain rooms till as late as possible without additional charges - subject to availability)
We will proceed to discover the markets of Lucknow - though the city doesn't have many glitzy malls, and glamorous shops, but shopping in Lucknow can be a memorable experience thanks to its vibrant markets and blended traditions. The city is quite famous for its traditional chikan embroidery work, which attracts travelers from all across the country. Shopping in the city's markets, with their narrow old lanes and countless shops, has its own charm. Apart from chikan work, the royal city is also renowned for its exquisite jewellery pieces and ittar (perfume). A visit to Lucknow's most famous shopping hubs such as Aminabad, Janpath, Chowk, Gadbadjhala and Alambagh, is guaranteed to be a memorable experience in more ways than one.
Following the market visit, in time, transfer to the Lucknow Amausi Airport to board your flight to Jaipur.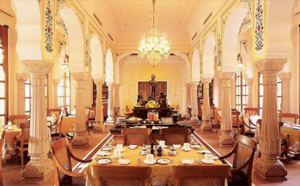 Meeting and assistance upon arrival in Jaipur check into the Rajvilas Hotel, one of the country's premier hotel. Set in 30 acres of orchards, gardens, decorated pools and fountains. The hotel is build with exacting detail, recreating a traditional Rajasthani fort setting. A key feature of the landscape is a large lotus filled water body in which floats a 250-year-old temple on a small island. A haveli or traditional Rajasthani mansion has been restored to its former beauty and contains the hotel's world class spa. The spa is professionally run with the assistance of a specialised spa consultant from the United Kingdom. It incorporates traditional Indian Ayurvedic methods of relaxation, massage and herbal treatment into its programmes.
Overnight at The Rajvilas – a 5* Oberoi Group Hotel (Premier Plus Room) (B)
Day 06: Jaipur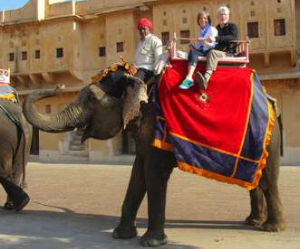 After breakfast, we will visit Amber enroute the HawaMahal or Palace of the Winds, a five-storied structure of pink sandstone with semi-Octagonal and delicately honeycombed windows overlooking the main street of the old city. It was built in 1799 so that veiled royal women could peer down unseen by the world through its 593 stone screens
Next, we visit Amber Fort, the former capital of the royal Jaipurs. Few fail to be moved by the dramatic Rajput grandeur of this hilltop fortress-palace 11 km north of Jaipur. Set on the dry wrinkled Aravali Hills, and surrounded by fortified battlements, the palace straddles two sepia-hued tundra hills overlooking Maota Lake, and its sprawling crenellated walls lattice the surrounding hills.
We will ride up to this hilltop palace on a caparisoned, painted elephant, passing through the ancient main gate where Maharajas of Jaipur have entered for four hundred years. Our guide will elaborate on the history of this architectural masterpiece with its mirror-studded alcoves, dazzling mosaics and water-cooled swings that delight today's visitors as they did their former royal residents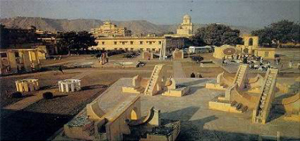 Later, we proceed on a tour Of the City Palace & Observatory. The City Palace in the heart of the old city is a blend of Rajasthani and Mughal architecture. The fortified wall has seven gates and was built for protection from invading armies and animals that lived in jungles, which surrounded the wall that time. Next, we visit the Solar Observatory - an astronomical treasure house, with solar device that give accurate predictions till date.
We also visit the temple of Govind Dev Ji. It is one of the most sacred and famous tourist destinations in India. The temple is located in the City Palace complex, of Jaipur. The idol of GovindDevJi is strikingly beautiful for its complete resemblance with Lord Krishna, and the temple is placed between Chandra Mahal and BadalMahal in the City Palace complex. Every day, various 'Aartis' and 'Prasad' or 'Bhogs' are offered at the temple, at seven different times.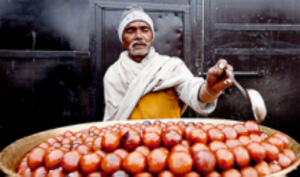 Evening, we proceed on a dinner trail to relish the tempting delicacies of Jaipur: As someone has rightly said "Food is our common ground - a universal experience." Keeping this in mind, we have proposed a special tour or, rather an experience where we will taste some of the delicious delicacies of Jaipur as we walk through the areas that have not been explored by regular tourists. The sight of fresh vegetables being tossed in hot oil and then mixed with fresh aromatic spices will get the butterflies in your tummy fluttering. A pure Indian meal journey that treats your palate to different types of snacks, multigrain breads, authentic mithai (sweets), and special chai (tea) made on charcoal fire. For non-vegetarians, we bring to the plate the signature dish of Rajasthan, the very famous Laal Maas (Red Meat) - a sumptuous red meat curry cooked in gravy with choicest spices. Also, we will have our dinner with a local Jaipur family along with traditional Rajasthani live folk dance and puppet show. This tour is surely a treat for both vegetarian and non-vegetarian alike. Also, there are stopovers at traditional shops run for generations. Here, we savour the real flavours of Jaipur.
Overnight at The Rajvilas – a 5* Oberoi Group Hotel (Premier Room) (B & D)
Day 07: Jaipur/ Fatehpur Sikri /Agra (245 Kms) (05 ½ Hrs. Drive)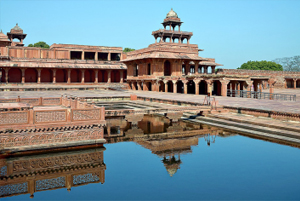 After breakfast, we drive to Agra stopping at deserted capital city of FatehpurSikri. This abandoned capital of the Mughals is a perfectly preserved city at the height of the empire's splendor. The city divided into religious and secular parts has interesting well-sculpted buildings. From here we continue riding to Agra.
Upon arrival in Agra, check in to Amarvilas hotel, which is one of the best boutique hotels in the world. The hotel of whimsical charm has several attractions. However, being in the city of the Taj Mahal, the most relevant charm of the hotels is the unhindered view of the Taj Mahal from your bedroom. It is the most beautiful and an amazingly uplifting sight. Only 600 meters from the Taj Mahal stands this luxury resort. Discerning travelers can now appreciate the fabulous Taj Mahal while enjoying world-class luxury. The elaborate Mughal gardens, terraced lawns, fountains, reflection pools and pavilions complement the classical architecture of the hotel.
Evening, we will visit Mehtab Bagh. The Moonlight Garden was an e xtension of the TajMahal Garden - on the other side of the river. In 1652 Aurangzeb wrote to his father telling of a visit to 'the blessed tomb and commenting that the Mehtab Garden was completely inundated and has lost its charm, but soon it will regain its verdancy. The octagonal pool and the pavilion around it are in splendid condition. The MehtabBagh was lost under the mud but re-excavated in the 1990s. Originally, the garden was planted with fragrant flowers and used in the cool of the night as a place from which to view the TajMahal reflected in the octagon al pool and in the river.
Overnight at The Amarvilas – a 5* Oberoi Group Hotel (Premier Room) (B)
Day 08: Agra (Taj Mahal is closed on Fridays)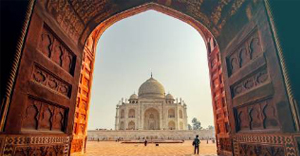 At sunrise we visit one of the greatest sights of one's lifetime - TajMahal. A dawn visit to the fabled TajMahal to witness the magical effects caused by the reflections of the changing colors of the rising Sun on this brilliant white marble building. Later we return back to our hotel for breakfast.
After breakfast, we ride to the massive Agra Fort. The elegant buildings inside reflect an interesting synthesis of Hindu and Central Asian architectural styles. Built by Emperor Akbar, the maze of the courtyards, mosques & private chambers of the fort echo the story of the Mughal Empire
We will also visit a unique café, called Sheroes Hangout.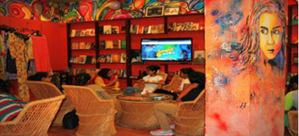 Women who fought back for life (Acid attack victims) are the real fighters as they have started to lead a normal life by running a one of its kind café, 'Sheroes Hangout' - An air of unhurried informality hangs in the air at Sheroes, aided by bamboo furniture and Bollywood music. Times are now different for these ladies as they work in the different capacities in the café – from cook, waiter, cleaner to managing accounts. Alongside, one can find a boutique store too. The café also has a reading section that has become extremely popular among visitors and locals alike.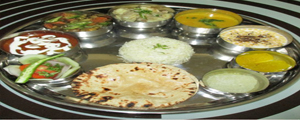 Evening, as a part of our Agra tour, we take you in pursuit of a truly natural and cultural experience in an Indian home. Here, we will experience traditional Indian food served to learn the little nuances of Indian food in the kitchen. The laughter and the entertaining conversations will only be the add-on of this session, along with the mouth-watering food and memories to take away. The event is guaranteed to be an occasion that would tickle your heart through the route of your stomach. Overnight at The Amarvilas – a 5* Oberoi Group Hotel (Premier Room) (B & D)
Day 09: Agra / Delhi (205 Kms) (04 Hrs. Drive) - Delhi / Departure
(Though the checkout time is 12 noon, every effort would be made to retain rooms till as late as possible without additional charges - subject to availability )
We will drive to Delhi along one of the India's finest freeways
Upon arrival in Delhi, transfer to the International airport to board your onward flight back home.
No Hotel Quoted For This Day
END OF SERVICES
We do hope the flavor of India will remain on your taste buds for all times to come and hopefully would kindle an indelible fondness for the country and her people; Thank you for being our guest, and as we say in India 'Please Come Back Soon"

Thank you for giving us the opportunity to serve you !!
Tour Cost for 02 People Traveling Together on Twin Sharing Basis
01st October 2019 to 31st March 2020 :-
Regular Tour Cost:-
(Inclusive of inner India airfare for Delhi / Lucknow / Jaipur sectors in economy class - Discounted airfare subject to change & availability)
INR 264,580* Per Person
Special Trinetra Discount :-
INR 24,000 Per Person
NET TRINETRA COST :-
INR 240,580* Per Person
*Quotes based on special Oberoi Group Exotic Vacation Package - subject to availability of all quoted hotels (Not applicable for the period of 20th Dec.'2019 to 05th Jan.'2020).
Cost Includes :
Accommodation on Twin Sharing Basis
Meals as per the itinerary only (B – breakfast, L – Lunch & D – Dinner)
Entrances fee to monuments
Customized rickshaw ride in Delhi
Kotwara Dinner in Lucknow
Heritage tour in Lucknow
Tea session with Nawab in Lucknow
Food walk in Lucknow
Shopping tour in Lucknow
Cooking demonstration and meal with an Indian family in Agra
Elephant ride upto Amber Fort in Jaipur
Dinner Trail in Jaipur
Cooking demonstration and meal with an Indian family in Agra
All journeys as per itinerary in a fine air-conditioned MUV(Toyota Innova - www.toyotabharat.com)
Inner India airfares as per the Itinerary (Subject to change and 100% cancellation charge)
Local Guides and GST Levy
Special Inclusions at the Oberoi Hotels (Delhi, Jaipur and Agra) :
Daily yoga session.
25% savings on spa treatments.
Complimentary Internet access for up to four devices.
24 hour butler service.
Cost Does Not Include :
Meals other than mentioned above
Camera &video fee to monuments
Personal expenses like drinks, laundry